This is a remarkably simple dish. The chinese cabbage is combined with the springy enoki mushrooms. As the stalk part of the cabbage is very much thicker than the rest of the leaf, we will cook the stalks later and will be cut into thinner strips for easier cooking.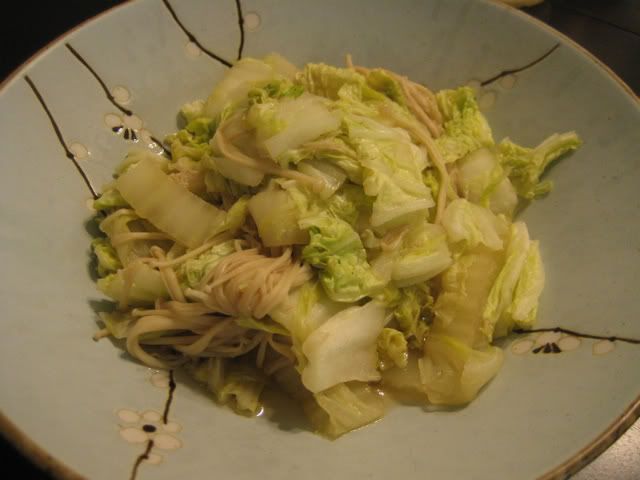 Ingredients:

10 large leaves Chinese cabbage
20g sliced fresh ginger
2 packets of enoki mushrooms
2 cups of dashi (bonito stock)
3 tbsps mirin
5 tsps light soy sauce
1 tbsp sugar
pinch of salt

Method:

Cut the pale green leafy section from the thick stalk of each leave. Cut the stalks into 1.2 x 2 inch strips. Cut the leafy portions into 1 x 2 inch strips.

Cut the ginger with the grain into very fine slivers. Soak in cold water for 2-3 minutes then drain. This is to lessen the potency of the ginger in this mild dish.

Blanch the enoki mushrooms in boiling water for a quick minutes. Drain well.

Combine the remaining ingredients in a saucepan, then add the stalk strips and ginger slivers. Cover with a drop-lid or parchment paper and bring to a boil over high heat. Reduce heat to medium, simmer for 5 minutes, add the remaining cabbage and enoki, and heat through for another 3 minutes.

Arrange the cabbage and mushrooms in individual bowls and spoon several tablespoons of the broth. Serve. Incidentally, I saved some of the broth which made for a great soup base for noodles the next day.