Hamaguri ushio-jiru

This is another recipe I took from Practical Japanese Cooking. Clams or hamaguri also known as beach chestnuts makes a light yet rich broth. This is a very flavourful and soothing broth. Make sure that the clams barely crack open before serving immediately. This soup differs from Cantonese soups where the latter is usually richly flavourful. Although the Japanese are famous for miso soup, I find that I prefer the broth-based soups in Japanese cooking. Cantonese soups usually take a few hours for boiling to produce the rich flavours, in contrast this soup only requires a few minutes of boiling. However, note that the clams will need soaking for 4-5 hours to bring out the sand and the seaweed has to be soaked and parboiled before boiling.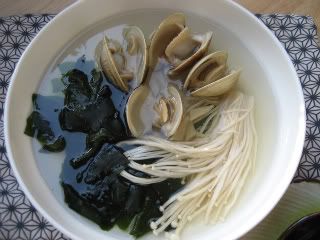 For a spicier way to cook Manila clams, try my Stir-fried Manila Clams in Spicy Black Bean Sauce recipe.

Ingredients:

12 live hard-shell clams (I used Manila clams)
10g dried wakame seaweed
1 bunch enoki mushrooms
1 1/2 cups of water
1 1/2 cups bonito stock (dashi)
2 inch length kelp (konbu)
pinch salt
dash light soy sauce
dash sake
2-inch piece fresh ginger, finely slivered
1 piece cheesecloth or alternatively coffee filters for clarifying the broth

Method:

Preparation: Choose fresh clams that close tightly when touched. Avoid ones with cracked or chipped shells. Let the clams stand in salted water (1tsp salt to 3 cups water) in a cool, dark place for 4-5 hours to draw out the sand.

Prepare the wakame seaweed - soak for 20 minutes, next boil in pot until colour brightens. Drain and soak in cold water immediately.

Cut away the root cluster at the base of the enoki mushrooms. Parboil in lightly salted water, then plunge into cold water. Drain. Do not boil the mushrooms for too long as they soften quite quickly.

To make: Combine the clams, water, bonito sock and konbu kelp in a soup pot over high heat. Just before hte water boils, remove the kelp. Bring the mixture to a boil. When the clams open, remove from the pot and discard any that do not open. Strain the broth to clarify either with a cheesecloth or coffee filters. This will take a while - patience is a virtue here!

Return the broth to the pot and season to taste with salt, soy sauce, and sake. Reheat the mushrooms and wakame seaweed in the broth. Finally, divide the clams, mushrooms and wakame seaweed among 4 bowls. Add the broth, top with the slivered ginger and serve.