Zaru Soba

Summer is coming! In fact, it was pretty warm over the weekend in San Diego even for me who shivers easily. These noodles are the perfect summery noodles - Japanese summers can be pretty hot so these are perfect for a light and refreshing meal. I saved the additional soy-bonito sauce from my fish cheeks recipe Click here for sauce recipe from earlier and used it as the dipping sauce for the noodles. Soba noodles are native to Japan and are made of buckwheat flour and wheat flour. I used buckwheat noodles this time and I used the dried version - they are tastier though when made fresh. You can serve this with tempura i.e tenzaru soba.

Click here for an introduction to the popular noodles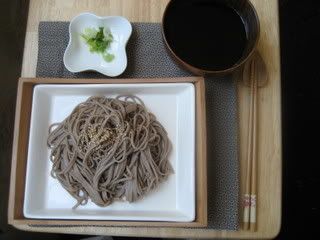 Ingredients:

Soba noodles
Toasted nori seaweed
Sesame Seeds
Scallions, chopped finely
Wasabi
Quail egg (optional)

Method:

Prepare a full pot of water - about 4 cups for 1 bundle of noodles. Once the water boils, put the noodles into the pot. Add cold water after the noodles are in the pot for about 2 minutes. Once the water boils again, add more cold water. Cook until al dente. Drain the noodles and rinse with cold water to remove all starch.

Sprinkle the sesame seeds and toasted nori seaweed strips on top of the noodles. Serve with dipping sauce. The wasabi, scallions and egg may be mixed into the dipping sauce.