This pan-fried rockfish is flavoured mainly with garlic and shallots. Cooked properly, each bite should be infused with the strong fragrance of shallots and garlic. Rubbing the skin of the fish with salt before pan-frying ensures that the flesh remains moist and juicy when you bite into it. It's advisable to use a non-stick pan for sure to minimise the case of the fish with bits of skin missing!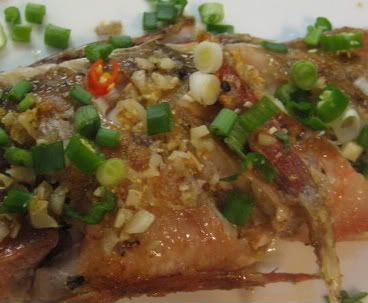 Ingredients:

1 small-medium sized rockfish (or any white fish)
Salt
Corn starch
2 cloves garlic, minced
2 cloves shallots, minced
1 stalk green onion
1-2 bird's eye chilli (optional)
Cooking oil

Method:

Firstly, make 2 slits on each side of the fish's body to ensure easier cooking and also for the flavours to be absorbed easier. Next, pat the fish dry with a kitchen towel or paper towel. It's quite imperative to get the fish as dry as possible. Now, rub the fish lightly with salt and next dust each side lightly with corn starch. This is to ensure that the skin of the fish does not stick to your pan.

Heat up some cooking oil, about 2 tablespoons. Once hot, place the garlic and shallots into the pan and saute until fragrant. and garlic starts to brown a little. Remove from oil and set aside. Now, pan fry the fish on each side in the garlic and shallot oil until cooked. This should take about 5-8 minutes each side on medium heat depending on the size of your fish. Once cooked, lift carefully and place on a dish. Spoon the garlic and shallots that were earlier sauteed onto the fish. Add the green onions and chillis on top of the fish. Although there is no sauce for this dish, my fish turned out crispy on the outside and moist inside. Delicious indeed!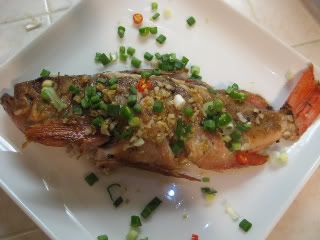 As you can see, my pan was not big enough for the fish, so unfortunately, that led to the crooked tail!