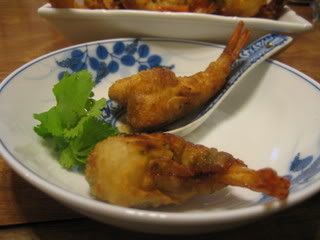 Ingredients:

2 dozen jumbo/ large shrimp (peeled, with tails intact)
2 tbsp fresh cilantro leaves
2 cloves garlic
1 egg white, beaten lightly
2 dozen wonton wrappers
Enough oil for deep frying
Cilantro and red chili for garnish

Dip:
2 red bird's eye chili (cili padi)
2 tsp honey
4 tbsp light soy sauce

Method:

Prepare the dip by mixing the ingredients as above. You may increase the amount of honey if you prefer your dip to be sweeter and same thing applies to the soy sauce or the chili.
Chop the garlic and cilantro leaves finely and mix together in a small bowl.
Brush each wonton wrapper with the egg white, place the shrimp in the middle of the wrapper, leaving the tail uncovered and spoon a little of the cilantro/ garlic mix onto the wrapper, enclosing the shrimp. Repeat with each shrimp.
Deep-fry the shrimp rolls/ packets in hot oil until golden brown.
Place the fried rolls on kitchen towels to absorb the extra oil. Dish out onto a separate dish. Serve with the dip above.

These shrimp rolls go well with Lingam sauce too!