I finished work a little later today and was feeling rather lethargic. Hence, I whipped up this simple pork stir fry for a quick meal with rice. The ginkgo leaf plate is simply adorable and I broke it out today for today's dish that I got at Crate & Barrel over the weekend in Fashion Valley. You can purchase this plate online here.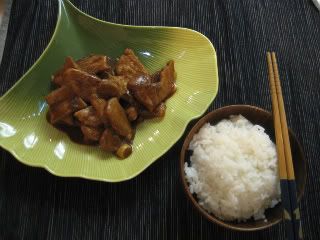 Ingredients:

1/2 pound pork loin slices
1 tbsp corn starch
2 tbsp light soy sauce
2 tbsp dark soy sauce
2 tsp sugar
1 stalk green onion, chopped
2 cloves garlic, sliced
1 clove shallot, sliced

Method:

Heat up some oil in a wok. Once the oil is hot enough, place the garlic, green onions and shallot slices and fry till fragrant. Next, turn the heat down to low and add the soy sauces and sugar. Now, add the pork slices (whch have been mixed with the corn starch) and fry. Add about 1 bowl of water into the mixture and bring to a boil. Stir around occasionally. Serve once the pork is cooked throughly.