I have featured steamed fish before, but I just could not resist posting this steamed copper rock fish. This time, I'm steaming it whole and I am giving the ginger slivers a quick fry before pouring it on top of the fish. Most Chinese love steamed fish, and it's considered one of the healthiest ways to eat fish.

I just love fish and I'm so lucky to have such fresh fish. I have to say too that. Anyways, back to the fish - we devoured the entire fish save its' eyes though my dad would have done so had he been here. The flesh of the cheeks were extremely succulent and was really to die for!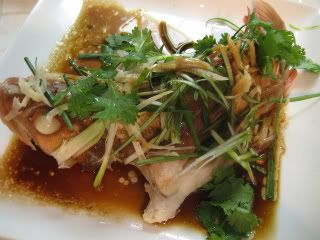 Ingredients:

1 medium sized rockfish
Green onions, finely chopped lengthwise
Ginger, finely chopped (I used a peeler to peel off thin strips of ginger then chopped it up)
Cilantro
Water for boiling



I steamed my fish in a bamboo steamer placed on top of my wok.

For the sauce:

2 tbsp of oil
2 tbsp of light soy sauce
Dash of dark soy sauce
1 tsp of sugar
2 tbsp of water

Method:

Firstly, clean and scale the fish throughly. If the fish that you are using is relatively large, cut it down the middle for easier steaming. Place a stalk of green onion and two big slices of ginger on top of the fish and steam for about 15-20 minutes, depending on the size of fish used. Do not overcook the fish as the fish will continue to 'cook' even when it is out of the wok.




Now, prepare the sauce by heating up the oil first. Once the oil is extremely hot, turn the heat to low - now mix the rest of the ingredients for the sauce in a separate bowl and pour into the hot oil, taking care to use low heat as the water will cause the oil to splatter. Now, remove the fish from the original dish it was steamed in, discard the stalk of green onion and ginger slices. Place the cooked fish into a serving dish, pile the green onions and ginger slices (give the ginger slivers a quick fry in hot oil) on top of the fish and pour the sauce all over the fish. Serve hot.

Tip: If you're using the bamboo steamer, be sure not to fill the wok right up to the top with water - the water will boil over and you will end up with boiled fish not steamed fish!

Please click here for other fish recipes of mine!