As the name of this dish implies, the chicken is simply steamed with green onions, a little ginger and is salt-rubbed before hand. For added flavour, you may add cilantro (optional) before steaming. The resulting chicken broth is very flavourful and in my opinion was the highlight of this dish.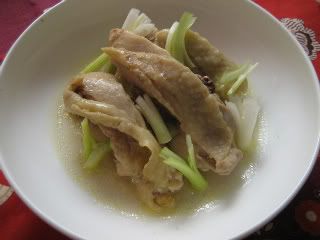 Ingredients:

2 whole chicken legs
2 stalks green onions
Handful of cilantro
2 slices ginger
1/2 tsp sesame oil
1 tsp cooking oil
Salt - about 4 tbsp (or to taste)

Method:

Rub the chicken with the salt. Place the green onions, ginger and cilantro atop the chicken. Add the sesame oil and cooking oil into the dish. Steam for about 20-30 minutes. Serve hot with rice.