This dish only involves the steaming of the tofu and the quick cooking of the shallot and dried shrimp sauce which is poured on top of the tofu. Very simple and easy to make, not compromising on taste of course!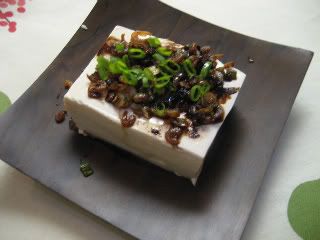 Ingredients:

1 block of soft silken tofu
1 stalk green onion, chopped
1 shallot, chopped
1-2 tbsp dried shrimp, soaked
1-2 tbsp light soy sauce
dash of dark soy sauce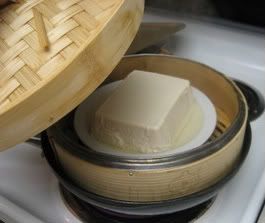 Method:

Firstly, steam the tofu until cooked which will take about 15-20 minutes. Once the tofu is cooked, remove from steamer and set aside. Heat the wok and pour in about 1 tbsp cooking oil. Cook the shallots, green onions and dried shrimp (drained) until fragrant. Remove from heat and add the soy sauces. Simply pour on top of the tofu and serve hot. Garnish with some green onions if desired.