These are very easy to make cookies, perfect for me right now as I feel like baking something, but nothing too elaborate. If you like peanut butter, you will definitely like these cookies. These can be dipped in chocolate or simply served plain.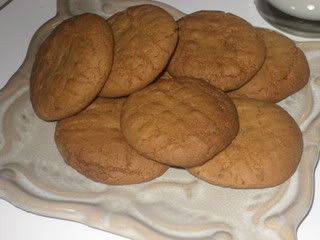 Ingredients:
1/2 cup peanut butter (I used crunchy)
1/2 cup unsalted softened butter
1/2 cup white granulated sugar
1/2 cup brown sugar
1 large egg
1 tsp vanilla extract
1 3/4 cups all purpose flour
3/4 tsp baking soda
1/2 tsp salt

Method:

Preheat your oven to 375 oF. Mix the peanut butter, butter, sugar, brown sugar, egg and vanilla extract in a large bowl. Beat with an electric mixer until fluffy. In a separate bowl, mix the flour, baking soda and salt together. Stir into butter mixture until well blended. Next, shape dough into balls (about 1.5 inches). Place balls at least 3 inches apart on cookie sheets (ungreased) - as I ran out, I just used aluminium foil which works just as well. Flatten the top of the balls gently with a fork. Bake in the top half of the oven until lightly brown, about 8-10 minutes. Remove cookies from sheets and allow to cool on wire racks. Makes about 2 dozen cookies.