It's been a loooooooong time since I've baked a cake, anyhow - somehow something unleashed the baker in me last week and I had a burning desire to bake! So here it is. A white vanilla butter cake with buttercream frosting, it was a tad sweet with the icing on but it was sure fun frosting the cake!


Ingredients:

for the cake (adapted from http://www.joyofbaking.com/)

1 3/4 cups sifted cake flour (don't substitute with all purpose please)
2 tsp baking powder (not soda)
1/4 tsp salt
1/2 cup unsalted butter - room temp
1 cup granulated white sugar
2 large eggs (separated)
1 tsp pure vanilla extract (tastes much better than the artificial extract)
1/2 cup milk
1/8 tsp cream of tartar

for the icing (adapted from Diana's Desserts):

4 cups of icing sugar
1/2 cup of unsalted butter
1 tsp of vanilla extract
1/2 cup of shortening (get the white one)
2 tbsp milk

Method (cake):

1. Preheat oven to 350 degrees F. Grease and flour two 8 inch round cake pans. 2. While the eggs are still cold, separate the eggs. Cover the 2 bowls with plastic wrap and allow eggs to come to room temp before using. 3. In a mixing bowl, sift the flour, baking powder and salt. Set aside. 4. Beat the butter until soft with an electric mixer, add 3/4 cup of the sugar and bet until light and fluffy. Add each yolk one at time, beating after each addition. Add the extract and mix until well combined. 5. Now turn the mixer to low speed and alternately add the flour mixture and milk, in 3 additions, beginning and ending with the flour. 6. Now, in a separate mixing bowl, beat the egg whites until foamy with the whisk attachment. Add the cream of tartar and continue beating until you see the formation of soft peaks. Gradually add the remaining sugar and continue to beat until stiff peaks form. 7. With a rubber spatula, gently fold a little of the whites into the batter to lighten it, and fold in the remaining whites until combined. 8. Finally divide the batter with the 2 prepared pans and smooth the tops with the back of a spoon or spatula. Bake for approximately 25 mins or until cooked (test with toothpick).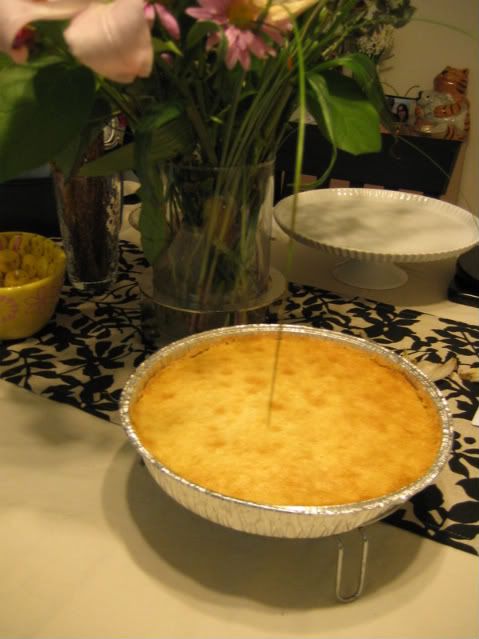 Icing:

Method:

1. Cream butter & shorterning with electric mixer until light and fluffy. Add vanilla. Gradually add sugar 1 cup at a time beating well on medium speed.
2. Add milk and beat at high speed until light and fluffy. You can adjust the level of sweetness on your own. To thin out icing, add 2 tbsp more of milk.