This was a dish I just thought up very quickly - simply wrap the salmon in foil and bake in the oven. Basically, I had to think of a quick, easy way to deliciously deplete of the lone salmon fillet sitting in my freezer. This is exceedingly simple and very rustic looking as well.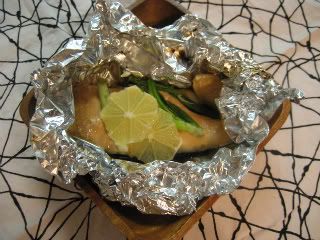 Ingredients:

2 salmon fillets
2 stalk green onions, cut into 3 inch pieces
4 garlic cloves (whole)
4 tbsps of light soy sauce
Dash of mirin (for sweetness)
2 slices of ginger
Dash of sake (optional)
4 slices of lemon (with rind removed)

Method:

Pre-heat the oven to 400 degrees Fahrenheit. Place each fillet onto separate pieces of foil. Now, simply divide the ingredients above into 2 portions and place together with each fillet. Wrap securely. Place in an oven pan/ dish and bake for about 20 minutes.

Once the fillets are cooked, place the 2 slices of lemon on each fillet and serve. The acidity of the lemon will leave the salmon fillets slightly infused with the needed acidity as the fish is still 'cooking' although it is out of the oven. A very easy dish and the unwrapping of the foil at the table will provide a lovely aroma as well.