I love food cooked in claypots for some reason. So I decided to cook a mini seafood claypot for a quick dinner. I used bay scallops, crabstick, snow peas and chinese cabbage as the main ingredients. You can always add other ingredients of your choice, for example, shrimp, squid, mushrooms, tofu - the list goes on. This dish combines mainly mild-flavoured ingredients. The seafood and Chinese cabbage impart a natural sweetness to the dish while the snow peas provide an added crunch. I added cute little flower shaped carrot slice for some colour. Again, another extremely simple dish that you can throw together with stuff from a well-stocked fridge. You can opt to use a wok or a pot to cook this dish in if you don't have a claypot. But to be honest, I got the idea to use a claypot tonight because the other pans were still in the dishwasher!

Notice the flower shaped carrot slices?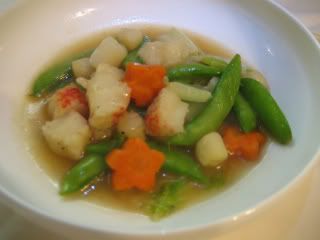 Ingredients:

1 cup bay scallops
1/2 cup crabstick, chopped into bite sized pieces
2 cloves garlic, sliced
4 slices ginger
3 tbsp light soya sauce
Salt & pepper to taste
1 tsp sugar or to taste
Dash of sesame oil
Dash of Shaoxing Wine
Packet of snow peas
1/2 Chinese cabbage, cut into 1 inch pieces (for easier cooking)
1 carrot, sliced
1/2 cup Chicken Broth (or you may just substitute with water)

Steamy claypot!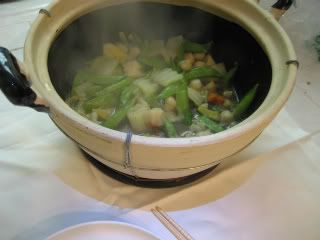 Method:

First, heat up some cooking oil in your wok/pan/ claypot. Saute the garlic and ginger slices till fragrant. Turn the heat down (to medium low) and add the soy sauce and Shaoxing wine. Now add the seafood of your choice (in this case, scallops and crabsticks) into the pot and saute until half cooked. Next, pour the chicken broth (or water) into the pot and bring to a boil. Add the sugar and season with salt and pepper to taste. Lastly, add the vegetables, the snow peas first as they take slightly longer to cook and finally the chinese cabbage. If you prefer the broth to be thicker, add some corn starch to the pot. Also, if you're using mushrooms, add those before you add in the vegetables. Lastly, add the dash of sesame oil. Serve hot.

For other seafood recipes try:

Tomato Garlic Shrimp Recipe

Chinese Steamed Copper Rockfish

Fried Fish in Garlic and Shallot Oil