Dim Sum is one of my favourite Chinese inventions. I love looking at all the dainty little dishes of bite-sized food and taking my pick especially at the old-fashioned tea-houses where 'little old ladies' still hawk their wares on huge wooden trays (yeah, instead of carts). I think the last time I had dim sum in this fashion was in Hong Kong, at the famed Luk Yu Teahouse. Still intact with its' 1930s rosewood furniture and accesorised with exceptionally rude waiters - this is traditional Chinese dim sum at its' best! Anyhow, seaweed rolls have found their way into the dim sum repertoire - usually deep fried.

The filling/ stuffing is similar to wonton or siu mai filling i.e. usually a mixture of shrimp, pork and scallions if you so prefer. This time, I decided to steam the rolls in the interest of a lower calorie and healthier meal.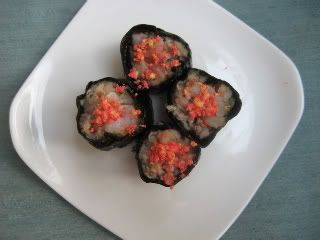 Ingredients:

5 roasted nori sheets (roasted seaweed used for rolling sushi)

For the stuffing:

1/2 pound ground pork
Dash of sesame oil
2 tsp light soy sauce
1/2 pound minced shrimp
1 tbsp scallions, chopped finely

You will need a bamboo rolling mat.




Method:

Simply mix the stuffing together in a bowl. You may opt to use shrimp alone or just pork depending on your preference. The concept is the same as that of rolling sushi. Simply spoon the filling into the middle of your nori sheet which should be on top of your bamboo rolling mat. Roll carefully, taking care not to squish the pork or shrimp all over the kitchen. Wet the ends of the sheet with water for them to stick together. Steam the rolls whole until cooked which should take about 15 minutes. Finally, simply cut them up into neat little sushi-esque rolls. I sprinkled some coloured egg yolk atop mine for some colour.

Tip: Steam the rolls as soon as they are done to minimise soggy seaweed.