I had a great craving for some hot soup this week so I decided to make some lotus root soup with spare ribs today - soup is definitely a comfort food for me and I can have a whole meal with just a bowl of hot, almost scalding soup with some rice. I love to dip the pork and the lotus root slices in soy sauce flavoured with chilli peppers (bird's eye chilli). Soup is really easy to make, just dump the ingredients in the pot with water and let it boil at low heat for about 3-4 hours. Never add water while the soup is boiling even if you think there's not enough soup. It will render your soup flavourless. Lotus roots are delicious plus nutritious and apart from being boiled in soup, they can be sliced thinly and used in stir-frys or deep-fried to make lotus root chips.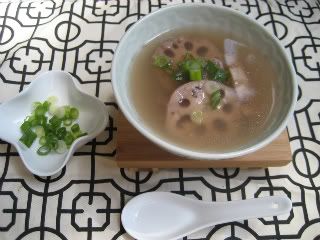 Ingredients:

About 2 lotus roots, washed and sliced
1 pound spare ribs, chopped
3-4 small dried cuttlefish, rinsed
Salt to taste
Sliced green onions (optional)

Method:

First, boil about 8 cups of water in a soup pot. Separately, boil another smaller pot of water. Place the spare ribs into the smaller pot of water once it boils - when the meat changes colour, remove from pot and drain. This step it to remove impurities from the meat.




Next, simply put all the ingredients i.e. the lotus roots, cuttlefish and meat into your soup pot. Bring to a boil. Now, turn the heat to low and let it boil slowly for about 3-4 hours with the cover off. Add salt to taste and serve hot.

Other soups you may like:

Watercress and spareribs soup

Chinese Daikon Soup with spareribs

Japanese Clam Soup