You can use any types of whitefish for this recipe. The fillets are simply pan-fried in oil that was just used for cooking the garlic, green onion and ginger slices in order for the fish to have the lovely aroma. Next, simply make a simple sauce of soy and sugar and pour on top of the fish. Garnish with some vertically sliced green onions, pleasing to the eye and palate!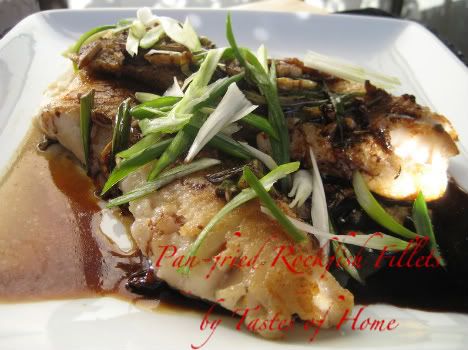 Ingredients:
2 red rockfish fillets (rub lightly with corn flour to prevent sticking - plus make sure the fish is dried with a paper towel before rubbing)
4 cloves garlic, sliced
2 stalks green onions, sliced
1 tsp thinly sliced ginger

Sauce:
1 tbsp soy sauce
1-2 tsp sugar
1/4 cup water
(this is a guide - please adjust according to taste)

Method:

Heat up 1-2 tbsp of cooking oil in your pan until hot. Swirl to coat your pan. Next, add the garlic, green onions and ginger - saute until fragrant. Remove from pan. With the oil in the pan, simply place the fish fillets in the pan and fry each side for about 5-8 minutes depending on the thickness of your fish. Once the fish is cooked, remove from pan and place on serving dish. Now, mix the sauce ingredients together in a little bowl. Pour the sauce into the pan (turn the heat to the lowest) - to minimise splattering. Now, add back in the garlic, ginger and green onion slices into the mixture and saute for a quick second. Lastly, pour the sauce mixture onto the fish fillets. Serve hot.