You have to try this dish! This is my ultimate favourite shrimp/ prawn recipe among all my recipes. Sweet and savoury, the black bean sauce adds the needed touch to this sure to be crowd pleaser. Simple to make with excellent flavours, it's hard to not love this dish. This is my version of a family favourite prawn dish we always order at our favourite 'outdoor' Chinese 'restaurant' in Malaysia. This was my first try at recreating this dish and needless to say, I was exceedingly pleased at the succulent results!




Ingredients:
1 pound raw tiger prawns(shell on), slitted in the middle for the 'butterfly' effect
3 slices fresh ginger (for flavour)
1 tbsp garlic, sliced
1 tbsp green onions, sliced

For the sauce:
1 tsp black bean sauce
3 tbsp dark soy sauce
1 tbsp sugar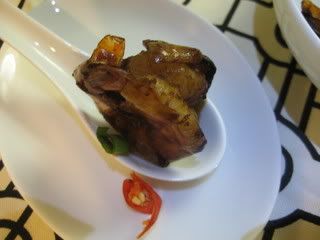 Method:

Heat up your wok. Once hot, pour about 1 tbsp cooking oil and swirl pan/wok to coat. Next, saute the garlic, ginger and green onions until fragrant. Turn the heat to low. Add in the sauce ingredients, the dark soy sauce and the sugar should be mixed in a separate bowl first. This is to allow for tasting. Adjust the dark soy sauce and sugar quantities accordingly to taste. Mix well with the garlic, ginger and green onion slices. Turn up the heat and add in the prawns. The prawns should not take long to cook. Toss the prawns around in the sauce, coating evenly. Do NOT add water into this dish at all. Once the prawns are cooked, your dish is ready to be served!