I love the texture of squid - this dish combines crunchy squid bites packed with some heat from the bird's eye chillis and the fragrant aroma of garlic. The level of heat you desire may be adjusted according to how many chillis you put in - you may also remove the seeds and soak the chillis in cold water for a bit to lower the heat factor. This makes a great main course or may be served as appetizers at parties!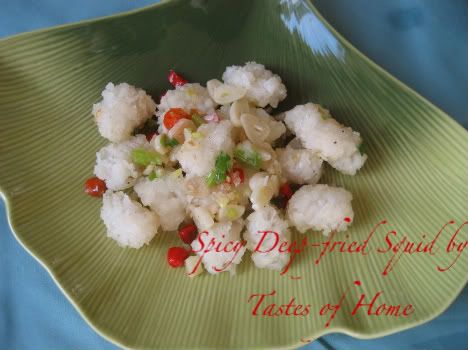 Ingredients:
About 2 cups worth of carved squid or just bite-sized squid pieces
4 stalks green onions, sliced
5 bird's eye chillis, sliced
6 cloves garlic, minced
Corn flour for coating the squid
Enough oil for deep-frying
Dash of pepper
1 tsp salt or to taste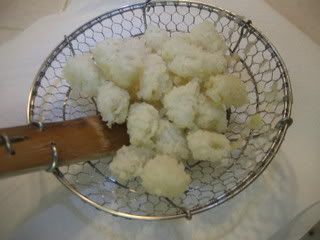 Method:
Heat enough cooking oil to deep-fry the squid bites. Dredge the squid pieces into the corn flour before frying. Once cooked, this should take about 10 minutes as squid cook really quick. Remove from hot oil. Discard the oil leaving about 1 tbsp in the pan. Meanwhile, place the cooked squid onto some oil-absorbent towels. Saute the garlic, green onions and chillis in the remaining oil until fragrant. Now, place the fried squid back into the pan and coat evenly with the garlic, green onion and chilli slices. Add the salt and a dash of pepper. Serve hot.