So, in the interest of relatively healthier foods, I bought some whole wheat noodles from the local Asian grocery store and was delightfully surprised by the flavour and the texture of the high fibre whole wheat noodles. I wanted a simple meal after a day of shopping (as shopping IS tiring!), I decided to toss together some pork slivers and noodles flavoured with green onions, shallots and some garlic. Of course, I had to have my noodles with some bird's eye chillis (I wish for cili padi) in soy sauce!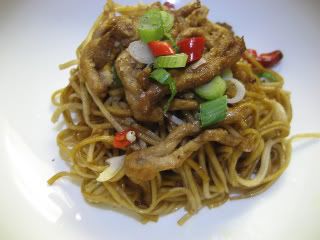 Ingredients:
2 packets whole wheat noodles (you may substitute with whichever noodles that you may like)
1 tbsp minced/ sliced garlic
1 tbsp sliced green onions
1 tbsp minced shallots
1/2 pound of pork slivers/ slices (I bought this already sliced at the grocery store which is definitely saves time!)
Sauce:
3-4 tbsp dark soy sauce
1 1/2-2 tbsp oyster sauce
2 tbsp water
1 tsp sugar
Dash of sesame oil
Dash of pepper (optional)
Method:
First, prepare the noodles by boiling them for about 3 minutes. Strain and use some cold water to 'wash' off the starchiness. Set aside. Next, coat a wok or a pan with about 1 tbsp of cooking oil by swirling around. Once hot, place the garlic, green onions and shallots into the oil and adjust the heat accordingly to ensure that the ingredients don't get burnt. Saute until fragrant. Now, add in the pork slivers (you may also substitute with chicken if you like). Add the sauce ingredients into the mix and stir-fry the pork until cooked. Finally, add in the cooked noodles and coat the noodles with the sauce mixture as evenly as you can. The quantities in the sauce merely serve as a guide, please adjust the quantities according to taste. Dish out and sprinkle some chopped green onions on top for some colour.