Toriniku nanban-zuke
Adapted from the Book of Practical Japanese Cooking by Tsuji & Hata

So after featuring seafood dishes in my last few posts, tonight I've decided to try out this Japanese chicken dish which is essentially deep-fried chicken bites soaked in a dashi-based marinade. Dashi lends the distinctive Japanese flavour while according to the authors of this excellent recipe book, this dish was brought in by foreigners to Japan in the 17th century. This makes an excellent appetizer as the vinegary dashi marinade imbues a refreshing spin on regular fried chicken bites. It is definitely a little different from usual Japanese fare and since the longer the chicken soaks in the marinade, the tastier it gets - this is perfect for a dinner party as you can keep it refrigerated in the marinade for 24 hours before serving.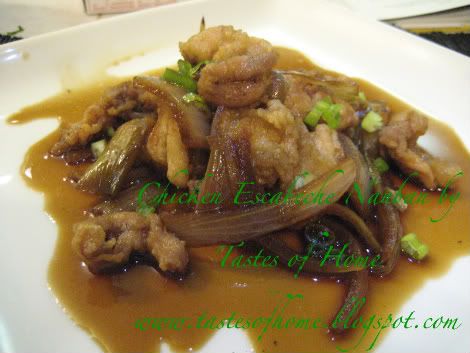 Ingredients:
3 chicken thighs, cut into bite-sized pieces
Flour for dredging
Enough oil for deep-frying

Marinade:
2-3 green onions, only the white parts (keep the green parts for garnish if you wish)
1 medium onion of half a regular onion
1 tbsp cooking oil
2-3 bird's eye chilli peppers (the recipe called for dried red chilli peppers - in my opinion, the bird's eye lends another fragrant touch to it)
3/4 cup rice vinegar
3/4 cup bonito stock (dashi)
3 tbsps sugar
2 tbsps light soy sauce
1 tbsp dark soy sauce

Method:
Firstly, prepare the marinade. Cut the green onions into 1 inch pieces and either grill them or saute them in a pan until soft. Set aside. Now, slice the onion thinly. Heat the cooking oil in a pan, swirling around to coat. Saute the onion until it becomes soft. Add in the chilli peppers, green onions and the remaining ingredients into the pan. Bring to a boil - spoon into a bowl and let cool.

Now, for the chicken bites, I used 3 pieces of thighs chopped into bite sized pieces. You may of course use chicken breast if you prefer although I much prefer the texture of thighs. Preheat enough cooking oil for deep-fry the chicken pieces. Dredge the pieces in flour and deep-fry until golden brown. Once cooked, remove from pan and while the chicken is still hot, place the pieces into the marinade and let it soak for about 5 minutes at least. Spoon chicken pieces onto serving dishes and ladle the marinade on top. Garnish with green onions if desired.

For some of my other delicious Japanese dishes:

Miso cooked Spare Ribs

Sake Simmered Chicken

Assorted Sushi