No Asian cooking food blog would be complete without the quinessential fried rice - the fried rice du jour is seafood! The possibilities for fried rice are virtually limitless, from seafood to chicken to spam or even just simply egg or garlic fried rice are all delicious alternatives. Fried rice was 'invented' centuries ago simply to make use of the various leftovers in one's kitchen - hence usually leftover rice is used. The idea of making use of only leftovers of course may be a little obsolete today as all kinds of 'deluxe' fried rice dishes have been made.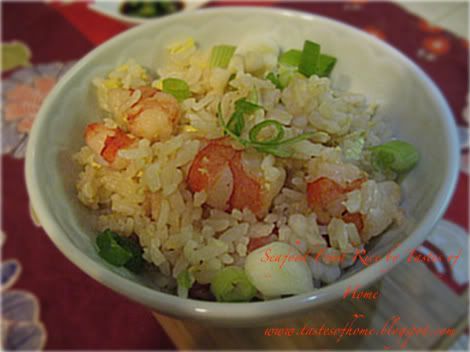 Ingredients:
2 cups of cooked rice (preferably 1 day old)
1 pound shrimp, cut into bite sized pieces
1/2 pound squid, cut into bite sized pieces (boil beforehand if raw) - this is to avoid unnecessary moisture
3 stalks green onions, sliced
4 cloves garlic, minced
3 eggs, beaten
Soy sauce to taste
Pepper to taste
Dash of sesame oil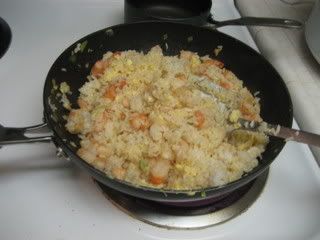 Method:

First, coat your wok or pan with oil and swirl around. Once hot, pour in the egg mixture and scramble until almost set but not quite. Remove from pan and place in a separate plate. Next, heat up another tablespoon of oil and swirl around to coat pan. Saute garlic and green onions till fragrant. Add the shrimp and squid (or other ingredients you may choose) and saute together. I then put about 2 tbsps of soy sauce and a dash of sesame oil at this point. Now, spoon the cooked rice (break it up with a spoon beforehand to minimise lumps) into the wok and fry for a little bit. Add the previously scrambled egg and mix in as throughly as you can with the rice. Do a taste test and add in more soy sauce if needed now. Finally sprinkle some pepper and a dash of sesame oil - use your spatula or spoon to mix the rice around in the wok until the rice is well coated. Serve hot. Garnish with some sliced green onions if you wish. I served mine with some bird's eye chilli peppers smashed in soy sauce.