Well, I finally got a new computer which is a gazillion times faster than the old junk that I had - apparently I was the culprit for the incredible sloth-like behaviour of my old PC since I downloaded indiscriminately all the time, most notably Hong Kong, Taiwainese, Korean dramas as I am an addict to those incredibly delicious dramas! Yup, I really can't live without my daily dose of healthy (?) Asian dramas...hmm. Anyways, enough with my PC 'drama' - today I feature a delightfully simple dish of squid stir-fry. The bird's eye chilli peppers add a spicy aroma to this dish. Another deceptively delicious dish brought to you by yours truly.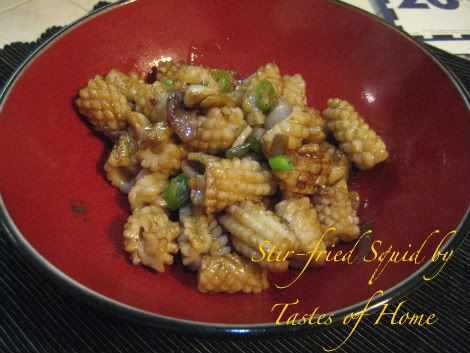 Click below for another alternative with the versatile squid:
Spicy Deep-fried Squid


Ingredients:
Squid (I used pre-carved squid bought at the Asian store)
2 stalks green onions, sliced
2-3 bird's eye's chilli peppers, sliced (you may remove the seeds and soak in cold water for a bit to remove a little of the spiciness)
3 cloves garlic, minced
1 shallot, minced
2 slices of ginger, slivered
1-2 tbsp dark soy sauce
1 tsp Shaoxiang Wine (Chinese cooking rice wine)
1 tsp sugar
1 tsp black bean sauce
Dash of pepper

Method:
Firstly, swirl around 1 tbsp of cooking oil in a hot pan for a bit. Next, add in garlic, shallots, green onions, ginger slivers and peppers - fry till fragrant. Now, add the squid bites into the pan and swirl around a little more to get a little crunchiness. Next, add the black bean sauce, soy sauce, wine, sugar and pepper. Add about 2 tbsps of water and just stir fry until cooked. Do a little taste test on the flavour and of course add more soy sauce or sugar to taste. Serve hot.