Growing up in Malaysia, I was surrounded by sellers hawking their snacks/ food on streets. Living in Malaysia, it is so easy to simply pop out of the house or office and you will usually find at least a few hawkers selling delicious snacks unique to Malaysia (yes, and Singapore) where Chinese, Malay and Indian flavours intermingle all the time. Fried banana fritters or famously known as Goreng Pisang (Pisang Goreng is actually the correct term in Malay grammatically but somehow Goreng Pisang seems to be used more widely) literally translate to Fried Bananas. The outer part is a little crunchy with a sweet, soft banana center.




On another note, due to the fact that I now have a cooking blog, most people usually think that I've been cooking all my life, in fact, au contraire- living at home in Malaysia, I never had to lift a finger in the kitchen. Even if you did not have moms or maids to cook, the dizzying array of hawker (street) food readily and cheaply available really did not call for a lot of cooking at home unless of course you were like my Dad who demanded home-cooked food since he does have a rather fussy palate! Yup, I sort of take after him, hence I started cooking on my own while studying in London since I was quickly bored of the average China Town fare and refused to eat sandwiches for dinners, I guess I am really 'Chinese' in that sense. Some more traditional Chinese people may even claim that sandwiches are only for snacks and believe firmly that rice is always required for a filling and satisfying meal!






Anyways, back to my featured banana snack, according to my mom, her favourite version of goreng pisang are the ones using pisang mas, a type of banana that is not readily available in the US (at least not that I know of), these bananas are quite smallish in size and have a distinct fragrance not found in the Dole bananas sold in grocery stores here. Well, I finally attempted to try out my mom's recipe with the aforesaid Dole bananas and the results were surprisingly quite satisfactory! An easy and nostalgic snack especially if you're a Malaysian or South East Asian living away from home.




Ingredients:

3 Dole bananas, sliced
4 tbsps cake flour (as cake flour has a lower gluten content)
1 medium egg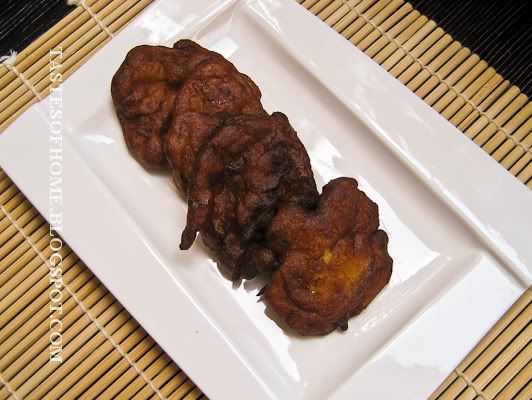 Method:
Preheat enough oil for deep-frying. Simply mash the bananas up (I used a potato masher). Add in the cake flour and egg, mix well. Try to spoon equal amounts - shaping each spoonful into a loose flattish ball and drop gently into hot oil. These banana cakes are not supposed to have a perfect round shape, the irregular roundish shape is the norm. Fry till golden brown on medium heat oil. Turn the banana cakes once or twice in the oil. Since these bananas are not as sweet as
pisang mas
, dust some powdered sugar on the 'fritters' if you wish. There are so many tweaks you can make to this recipe, have fun experimenting!