Before I present tonight's dish, I would like to say a big thank you to all of you (those whom I know personally and those who just stumbled upon this blog) who have taken the time to comment and email me with tons of compliments. They really make my day and I am very flattered that some of you actually went ahead and tried my home recipes and actually (liked?) them. Cooking is very fun for me and sometimes therapeutic as I don't have my piano here in San Diego with me and cooking has proven to be my main hobby apart from reading and er..shopping.





Okay, you're probably wondering what happened to tonight's recipe - I made chicken congee as I was feeling (just a little) feverish this morning and I was longing for some hot congee. Yes, what do Chinese people like when they're sick? Answer: it's congee or porridge. Since I had some boneless chicken thighs in the freezer, I decided to make chicken congee. Chicken congee operates on the same concept as chicken noodle soup to a certain extent, there's chicken broth, there's chicken (woohoo) and of course instead of the noodle, we use rice. Congee is just a lot of water and a little rice. I was quite happy with the texture of tonight's congee, very smooth and comforting! Food of course is sometimes not only about the taste or the ingredients, it's also the connotations that come with them, for instance, the highest grade of abalone or shark's fin may be very expensive and rare, but more often than not it's the simplest, most basic food that may prove to be the most delicious and most comforting. Ok, enough of the rambling, on to the ingredients!


Click below to check out other claypot recipes of mine:

Claypot Beef with Glass Noodles
Claypot Pork with Tofu and Mushrooms
Seafood Claypot




Ingredients:
1/4 cup of white rice, soaked for 2 hours
3-4 cups water
2 chicken thighs (with bone if you prefer)
2 stalks green onions, sliced
4 slices ginger, sliced
Dash of sesame oil
Dash of soy sauce
Dash of pepper (optional)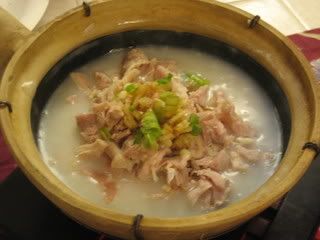 Method:
Firstly, boil the chicken thighs in a pot of water (about 4 cups) until cooked throughly. Next, remove from pot and set aside. Now, put the previously soaked rice into the broth and cook on medium heat for about 30-60 minutes. Please watch the pot to ensure that it does not dry up. Once the rice has 'melted', turn off the heat. Remember the cooked chicken? It should be cool by now, shred the chicken into strips. Now, sprinkle the chicken strips, green onions and ginger slices on top of the congee. Add the sesame oil, soy sauce and pepper and serve hot.