These crunchy chicken kebabs are delicious and pretty to look at - absolutely perfect for parties! Milk is added to the marinade which really helps to make the chicken bites crunchier. I used garlic powder for simplicity's sake, you can always use garlic cloves if you have more time to marinade. The red bell peppers go well with the chicken. You can also alternate with green or yellow bell peppers. I sprinkled some chilli powder on the kebabs for some extra spice and colour.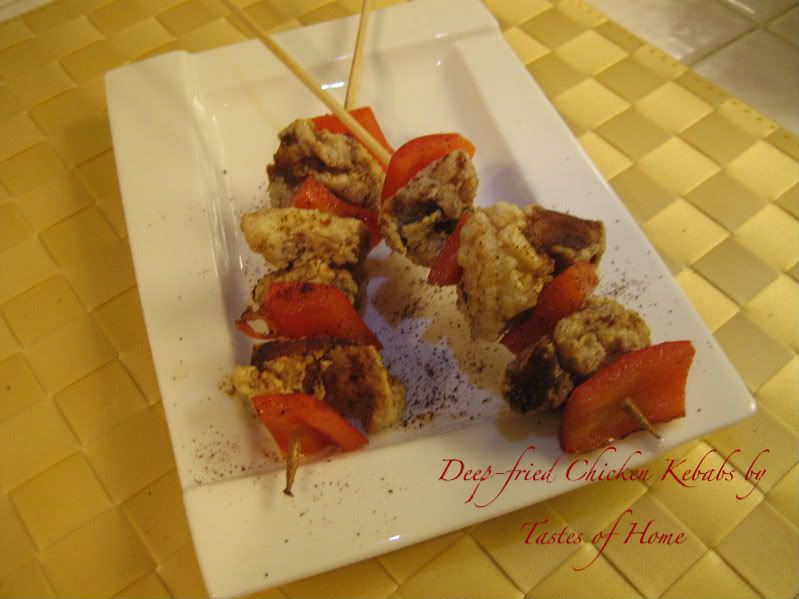 Ingredients:
4 boneless chicken thighs, cubed
Enough corn flour for dregding


Marinade:
1/2 cup sake
1/2 cup milk
3-4 tbsps garlic powder
3 tbsps salt

1 Red bell pepper, cut to bite-sized

Method:
First, marinade the chicken cubes for about 1 hour or longer if you have more time. Heat enough oil for deep-frying to about 320 degrees F. Dredge the cubes in the corn flour and deep-fry until golden brown. Remove from oil and start making the kebabs, alternating between a bell pepper piece and a chicken cube. Deep-fry again with the peppers - for about 30 seconds. Serve hot. Sprinkle some chilli powder if you wish.