Growing up in Malaysia which is a Commonwealth country, I have always referred to the vibrantly hued vegetable (btw, purple is so in for Fall! yeah, have to go shopping) as brinjals instead of eggplants but anyhow I think both sound alright. The eggplants are sliced diagonally and are used to sandwich home-made fish paste and subsequently deep-fried. Very yummy indeed! For my non-Asian readers, you can usually order these at dim sum restaurants or if you stop by in Malaysia, the pretty eggplant sandwiches are usual fare in places that sell yong tau foo (stuffed tofu).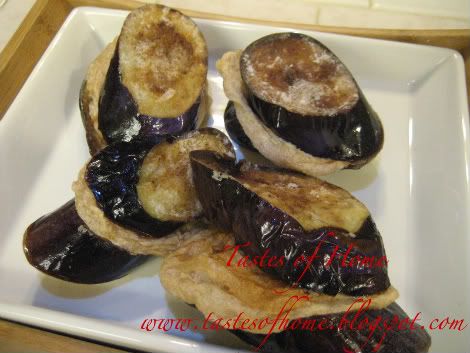 To take a look at some of my other fried dim sum offerings, please click on the recipe below:

Deep-fried Shrimp and Pork Paper Rolls Recipe

Deep-fried Shrimp Wontons Recipe

Golden Wrapped Tiger Shrimp Recipe


Ingredients:

2 eggplants, diagonally sliced about 1 inch thick
Fish paste (you can buy pre-made versions for the sake of convenience)
1 tsp corn starch
Enough oil for deep-frying
Flour for dredging
1 egg, beaten


Method:

Firstly, add the corn starch (diluted in equal 1 tsp water) to the fish paste mixture. Add about 1/2 lightly beaten egg to the mix. Meanwhile, heat enough oil for deep-frying. While waiting for the oil to heat up adequately, apply the fish paste to your eggplant slices ala making regular sandwiches. Once you have used up all your eggplant slices, dredge them in flour and the oil should be hot enough by now. Carefully deep-fry your eggplant 'sandwiches'.