Updated on April 2011 - I updated this post with some new photos and polished up the recipe- I can't believe that it has been years since I first posted this recipe. This is an ever-popular recipe in many Chinese households and I hope you'll enjoy this simple stir-fry. For better results, use fingerling potatoes as cooking time will be lessened and I find that these potatoes absorb the savoury sauce better.

Hope everyone is having a lovely weekend! The weather in San Diego as usual is quite perfect, last night I decided to cook a family favourite of mine, a very simple dish that only requires 5 ingredients (water is not counted right?) - I remember watching one Top Chef episode where the contestants were required to only use 6 ingredients for the Quick Fire Challenge and I think I could probably enter with this dish. This easy stir-fry combines great texture with the softened potatoes and chewy pork slices in a 'garlicky' flavoured savoury sauce thickened naturally by the starch in the potatoes.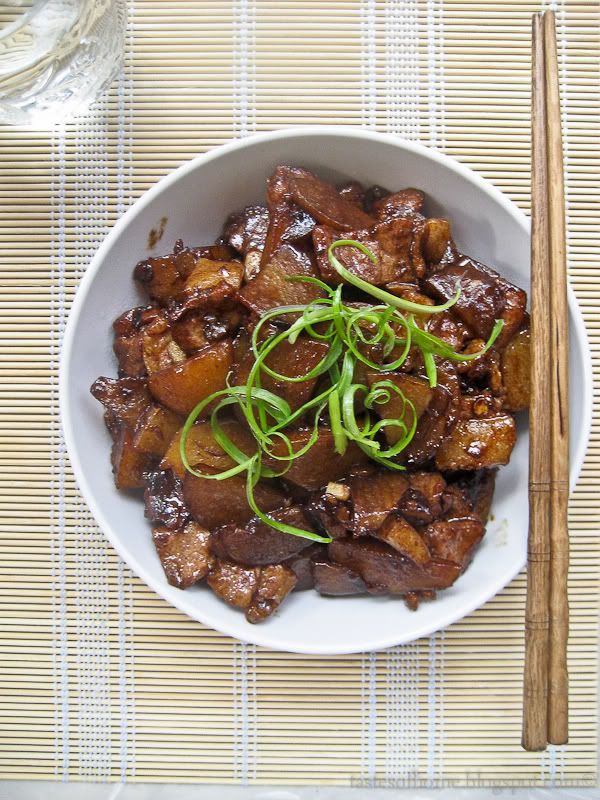 Ingredients:

1/2 pound pork, sliced (I used fatty pork but I don't eat the fatty bits, it just adds more flavour to the whole dish) - marinate in corn flour for about 1 hour (place in fridge) for better, springier texture
6 fingerling potatoes, peeled and sliced to 1/3 inch thick slices (approximate guides)
3 cloves garlic, minced
2 tbsps thick soy sauce
1 tsp light soy sauce
A pinch of salt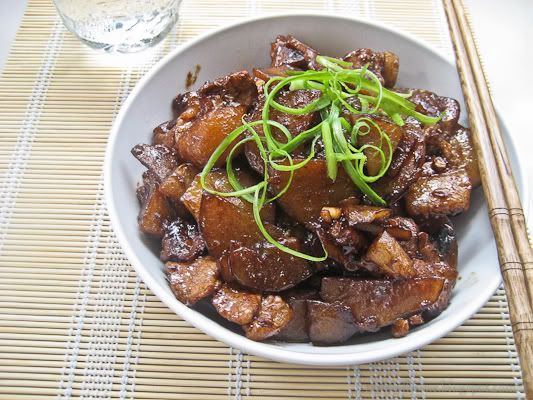 Method:

Heat up your pan or wok until hot. Turn heat to medium. Add in the garlic and fry until aromatic.

Add the pork slices and stir fry for a bit. Add the light soy sauce then add in the potatoes, then add in the salt. Add in the thick soy sauce. Stir fry around again to coat well. Add water. Bring to a boil and turn heat lower to allow for simmering until everything is cooked. Serve hot. Garnish with some green onion slices if desired.