Wow, I truly didn't know that seared hamachi was so easy and simple to make! I've only ever had this dish at 'fancy' restaurants hehe. Always use sashimi-grade tuna only for this dish as the fish is eaten very rare and only seared quickly on each side. The marinade is hence very important. I usually dislike the black pepper crusted versions of this dish and I opted to use some Japanese flavors since I think this is where seared hamachi originated from.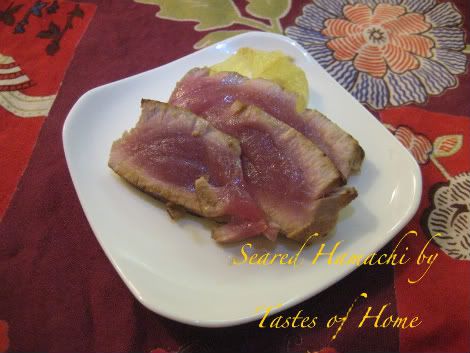 For more fish recipes from Tastes of Home, please click below:

Red Snapper in Spicy Ground Bean Sauce

Chinese Steamed Copper Rockfish

Deep-fried Rockfish Cheeks with Soy Bonito Sauce

I wrote this post while living in San Diego and my friend who is an avid fisherman caught this hamachi/ yellowtail tuna. Please refer here if you still want to argue that hamachi is not yellowtail tuna. I am quite bored getting comments telling me that this is not yellow tail or this is not yellow fin. I am not sure how yellow fin came about as you can see from the blog post title, it says yellow tail. As always, I reserve the right to delete or not publish any comments I perceive to be rude. Thank you.



Ingredients:
Two 3/4 inch thick yellowtail (hamachi) steaks
For the marinade:
2 tbsps sesame oil
1 tbsp mirin (you may substitute with sugar)
2 tbsps light soy sauce
1 tsp lemon juice
1 tbsp fresh ginger juice (or just use grated ginger if you wish)
1 tsp sake
2-3 cloves minced garlic

Method:
Marinade the steaks in the ingredients above for at least 1 hour. Next, add a small amount of cooking oil in a non-stick pan. Sear the tuna steaks for about 1 minute on each side. You may sear a little longer if you want your tuna steak less rare. Serve immediately. You can serve this with rice or with a salad on the side.