Noodles in hot chicken broth is always comforting and delicious at least for me. Here's a very simple chicken-broth based noodle for those busy and lazy days. I used dried shrimp noodles and merely added some deep-fried shallots, green onions and some Japanese fish cakes I found in my freezer. A dash of sesame oil and some chopped red peppers top the noodles off!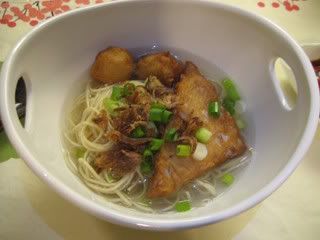 Ingredients:
2 shrimp noodles (dried)
2 cups chicken broth (good if you can do homemade, if not just use canned/ powdered form)
2 tbsps deep-fried shallots (you can get some packaged, pre-fried ones at most Asian stores)
2 stalks green onions, sliced thinly
Red chilli peppers or bird's eye chilli peppers
Fish cakes/ balls (optional)
Dash of sesame oil

Method:
Firstly, prepare the noodles by boiling them and then running the cooked noodles in cold water to remove some of the starchiness. Next, cook the fish cakes or you can also subsitute with chicken strips or pork strips. Now, heat up the chicken broth. Arrange the noodles in individual bowls topping with the fish cakes, shallots, green onions and chilli peppers. Carefully pour in the chicken broth for each individual bowl. Add a dash of sesame oil. Serve hot.