hese cute and petite tuna sandwich bites make perfect little bites at parties. This is just good old tuna sandwich rolled and presented in a sushi-esque manner.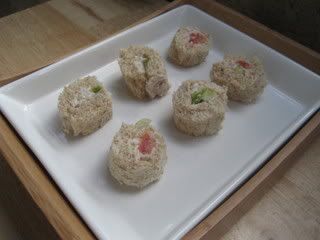 Ingredients:

Fresh or canned tuna
2-4 tbsps Miracle Whip, you may subsitute with mayonnaise if you prefer
Lettuce, shredded or chopped
2 tomatoes, chopped
1/4 onion, chopped
Salt
Pepper







Method:

If using fresh tuna, steam it first. Once cooked, chop it up and place in a mixing bowl. Add the ingredients above and mix well together. For my rolls, spread a layer of the tuna mix on top of the bread (chop off bread crust). Next, roll carefully as you would a sushi roll with the bread being the 'rice'. Finally, cut into 1-2 inch pieces. Serve. For some added spice, you may add some bird's eye chilli peppers to the tuna mix.