Today I feature my simple vanilla cupcakes with chocolate frosting.


Ingredients:
1/2 cup unsalted butter, softened
2/3 cup granulated white sugar
3 large eggs
1 teaspoon pure vanilla extract
1 1/2 cups all purpose flour
1 1/2 teaspoons baking soda
1/4 teaspoon salt
1/4 cup full cream milk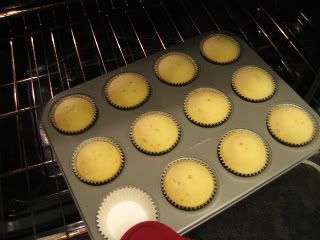 For another simple cake recipe: Click here for my colourful Neopolitan Marble Cake Recipe

Method:

Firstly, cream the butter and sugar until light and fluffy. Add the eggs, one at a time, mixing well after each addition. Next, add in the vanilla extract.

In another bowl, sift together the flour, baking powder, and salt. With the mixer on low speed, alternately add the flour mixture and milk, in three additions, beginning and ending with the flour while scraping down the sides.

Fill the muffin tray with the batter and bake for about 18 minutes or until browned Use a toothpick to test if the cupcakes are cooked throughly, once the toothpick comes out clean, the cakes are ready. Remove from oven and place on a wire rack to cool. Once the cupcakes are completely cooled, frost with icing. Since I wanted my cupcakes to be flat topped, I used a knife to cut off the 'domes' of the cakes. I cheated this time by using store-bought chocolate frosting! You can always get vanilla or white frosting and add food colouring for different coloured cupcakes.