This dish is no stranger to Chinese dining tables all over the world especially during festivities. Buddha's Feast or "Lo Hon Chai" (as pronounced in the Cantonese dialect) is made entirely with vegetarian ingredients hence its' namesake as Buddha himself was a vegetarian. Abstaining from eating meat is a religious practice in many cultures and in Buddhism, it is believed that being a vegetarian will improve one's karma and hence improve one's 'ranking' in the next life as Buddhists believe in reincarnation.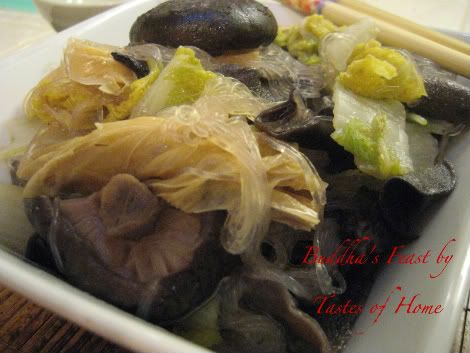 Anyhow, since this is a cooking blog and I'm no expert on theology, let's get on with the recipe shall we?

The dish derives most of its' flavour from fermented red beancurd (南乳) or otherwise known as 'Red Chinese Cheese', a cousin to its' plainer counterpart, the humble (but delicious!) fermented beancurd (腐乳) . The usual ingredients in this popular dish are Chinese cabbage, dried beancurd sheets or sticks, mushrooms, cloud-ear fungus and last but not least, glass noodles - or at least that's what I'm used to at home. As the dish gets most of its flavour from fermented red beancurd, this is another one of those Chinese dishes that requires an acquired taste or perhaps at the very least, a very wide and open palate.




It is truly funny in a sense that when I was living in Malaysia, this was one of my least favourite dishes since I think I'm really a carnivore at heart (hmmm) but now that I'm living far from home, I devoured this dish as it was truly a taste of home.

Ingredients:
1 head of small Nappa/ Chinese cabbage, rinsed and chopped to 1 inch thick pieces
3 cloves garlic, smashed
4 cubes of red fermented beancurd
1 tsp of soy (optional depending on your taste buds)
8 dried shiitake mushrooms (soaked for about 2 hours or until soft)
1 handful of cloud-ear fungus (soaked for about 2 hours of until soft and expanded)
4 beancurd sticks (soaked for about 2 hours or until soft)
2 bundles of glass noodles (soaked for 10 minutes or until soft)

For other recipes with nam yue, try:

Deep-fried Nam Yue Chicken Wings

Hakka Char Yoke (Fried Pork)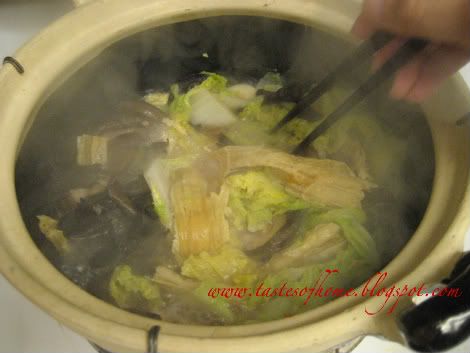 Method:
Heat about 1 tbsp of cooking oil in a wok or claypot - I used my claypot as I was using my wok for something else. Once hot, saute the garlic first for about 20 seconds and quickly add the nam yue. Stir-fry around briskly, smashing the nam yue as you go. Now, add about 1/2 cup of water. Add the rest of the ingredients except for the glass noodles as the latter will absorb all the broth almost immediately. Add more water if required. Once the ingredients are cooked, try the broth to see if it's flavourful enough, add some soy or more nam yue to your liking. Finally, add in the glass noodles and stir around. Wait for about 20 seconds and dish out. Serve hot with rice.