Recipe from Chinese Snacks by Huang Su-Huei

I love steamed cakes and this is a simple recipe for something sweet and light. These steamed cakes are sold everywhere in Malaysia and is one the most popular light cakes for the breakfast meal back home. As I don't have much of a sweet tooth, this is perfect for me when I have a craving for something sweet. However, if you've never tried steamed cake before, you might be in for a surprise. I like to eat this just plain on its' own with cup of scalding hot tea.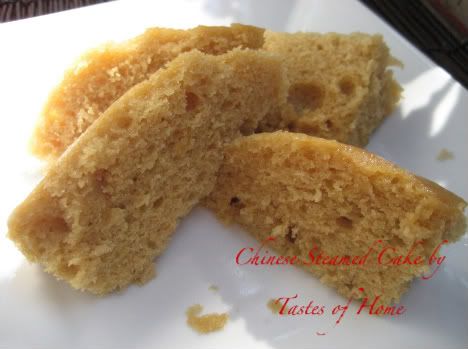 For more dessert recipes of mine, please click below:

Asian Neopolitan Cake (Marble Cake) Recipe

French Apple Tart Recipe

Mashed Banana Fritters (Goreng Pisang) Recipe

Vanilla Cupcakes with Chocolate Frosting Recipe



Ingredients:

1:
5 eggs
1 1/2 cup brown sugar
3/4 cup evaporated milk

2:
1 tsp vanilla extract
1/2 cup melted butter
1 tsp baking soda

3:
2 cups flour
1 tbsp baking powder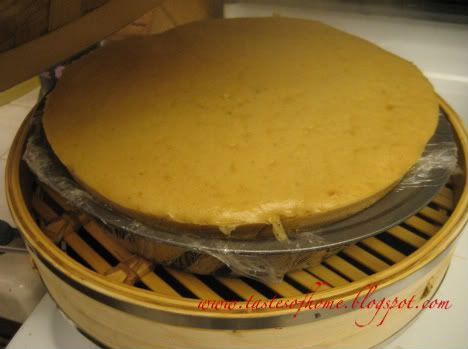 Method:
Mix 1 until thick and well combined. Add combined ingredients under 2 and beat for 1 minute. Sift ingredients under 3 and fold into the mixture to make batter.

Line a 10 inch pan with plastic wrap. Pour batter in pan and steam over high heat for 30 minutes or until completely cooked. Allow to cool completely. Slice and serve.