What do you do when you're feeling a little tired but yet want to have something good and home-cooked for dinner? You opt for the one-pot-meal! At least that's what I resort to - today I feature my beef in claypot cooked with some glass noodles. Glass noodles are really highly absorbent and very tasty after being simmered together with the beef in claypot as they absorb all the flavours really well. Another benefit of the one-pot-meal is of course you have less dishes to take care of and have more time to take care of other stuff. Just throw everything together, let them simmer and you will have a tasty and satisfying meal. This recipe will be good with Chinese or Nappa cabbage added as well.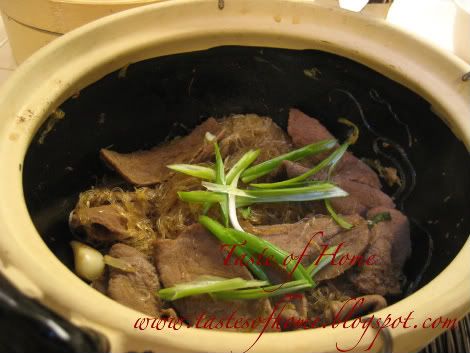 2 bundles of glass noodles (yes they are sold in bundles individually packaged or can be found in a big packet too - just use however much you desire) - soaked in cold water
3 cloves garlic, sliced
2 stalks green onions, sliced diagonally (looks better)
4 slices fresh ginger (add more if you like the gingery taste)
1/4 cup water
2 tbsps dark soy sauce
2 tbsps
sake
or Chinese rice wine
3 tbsps
mirin
(this is for sweetness - adjust according to taste)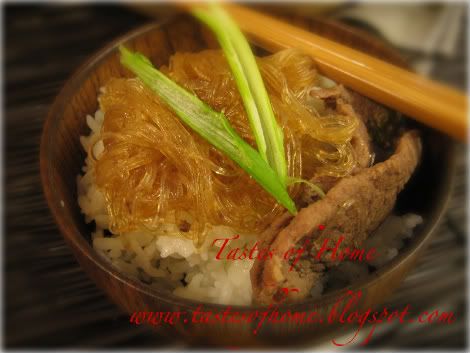 For more claypot recipes, click below:
Claypot Pork with Tofu and Mushrooms
Method: First, heat about 1 tbsp of cooking oil in the claypot - or a pan/ pot if you don't have one. Next, as usual saute the garlic, green onions and ginger until fragrant on medium heat to avoid burnt garlic. Next, add the beef slices into the pot and stir-fry around briskly. As the slices I used were really thin (almost shabu shabu like) I quickly added the condiments i.e. the soy, sake, mirin. Next add the water, bring to a boil and add in the glass noodles. Turn heat to low and let simmer for about 5-10 minutes depending on how much you have in the pot. Serve hot. The claypot does a good job at keeping the dish hot - so I usually serve from the claypot at the table.