Here's another installation of the Taste of Home's ultra-delicious dim sum for home series! Instead of using the regular spring roll wrappers (made of flour), I decided to use rice wrappers that you always see in Vietnamese cuisine. The rice paper rolls are very thin and most delicate when wet. The outer layer crisps up really nicely while the inside layer remains moist - a winning combination if I do say so myself.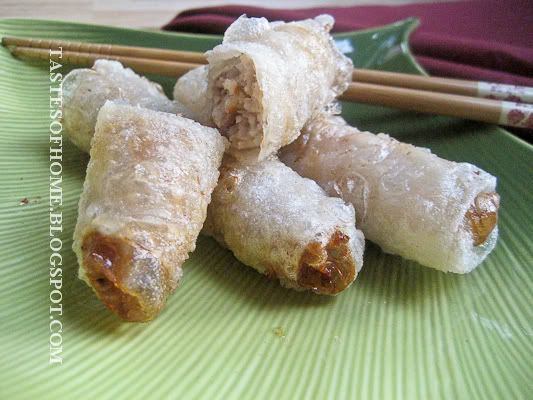 These rice papers really do take on the look and feel of plastic almost (before being soaked), after a few tries, I realised that most cook books will tell you to soak them for about 1 minute which will cause the rice wrapper to be too delicate to handle by then! So I devised a 'plan' where you just soak the pieces for about 12 seconds, then start wrapping - this is because the piece of rice wrapper will still be soaking while you're wrapping, so it will be pliable yet not too delicate. This may of course be common knowledge (?) to those who often work with these delectable rice wrappers, but for a first-timer like me, it's definitely a good tip.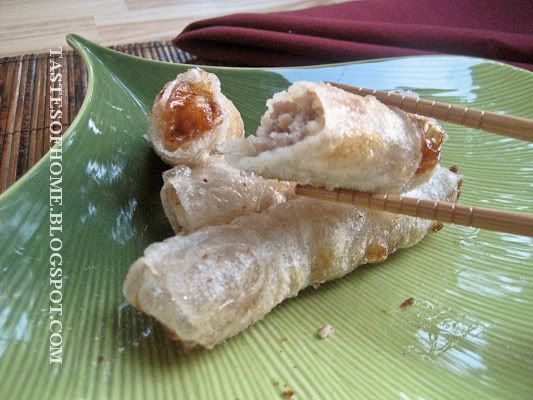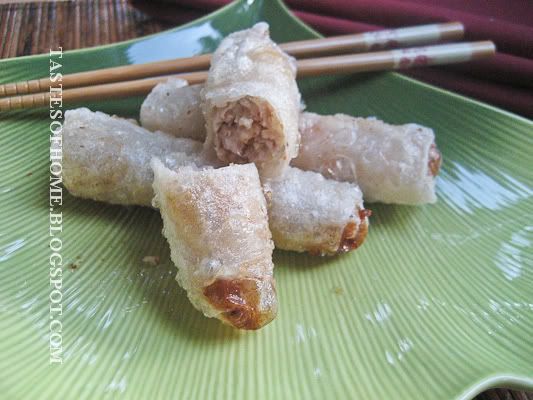 As always, one can be imaginative with the fillings of a spring roll, rice paper roll and the like. I used shrimp and ground pork in mine and they turned out absolutely delicious!

Interested in my other home-made dim sum recipes? Check out my recipes below:

Deep-fried Shrimp Wontons
Steamed Chives and Shrimp Dumplings
Shanghai Crystal Pork and Shrimp Dumplings

Ingredients:
10 rice paper wrappers
6 medium sized tiger shrimp, chopped finely
1/4 pound ground pork
3-4 stalks green onions, chopped finely
2 cloves garlic, minced finely

Marinade:
1 tsp Chinese Rice Wine (Shaoxing Wine)
1 tbsp light soy sauce
1-2 drops sesame oil
2 tsps mirin (can substitute with sugar)
Dash of white pepper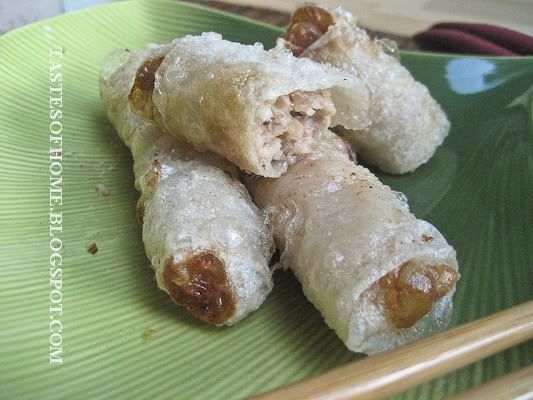 Method:
Firstly, prepare the filling by mixing the pork, shrimp, green onions and garlic together. Next add the ingredients above to marinate the mix. Set aside for about 15 minutes. Now, you're ready to wrap the rolls.

Soak the rice wrappers, working with one at a time for about 12 seconds. Next, place the wrapper on your work surface and spoon about 1 tbsp of filling onto the wrapper. Wrap the roll as if you're making a little 'envelope' i.e. fold up the bottom part, next, fold it in from both sides, roll once or twice upwards, then roll the remaining wrapper onto the roll and seal. The wrapper should seal easily as it is wet. Continue working with the rest of the wrappers.

Heat enough oil for deep-frying. The temperature should be around 200-250F, as I used pork, so I wanted to make sure the filling was cooked through without burning the wrappers. Deep-fry for about 10-15 minutes. If you're only using shrimp, it should only take about 5 minutes at most. Serve with a sweet chilli sauce if desired.