Looks like I'm on a dim sum (點心) roll, after making my Steamed Pork and Chives Dumplings and my Shanghai Pork and Shrimp Dumplings , I decided to make some very simple wontons with only shrimp as the main filling. No 'fancy' folding and pleating required, just twist and seal. These little 'golden packets' are packed with shrimpy goodness and make great appetizers or snacks. These wontons may also be boiled and served with chicken broth depending on your preference.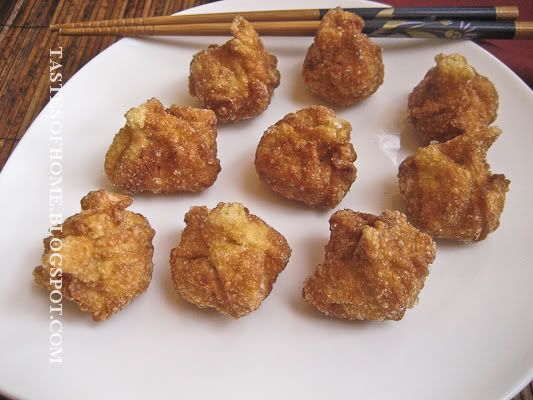 Feel like trying out more delicious, home-made dim sum recipes? Click on my other dim sum recipes below:

Steamed Seaweed Rolls Recipe

Golden Wrapped Tiger Shrimp Recipe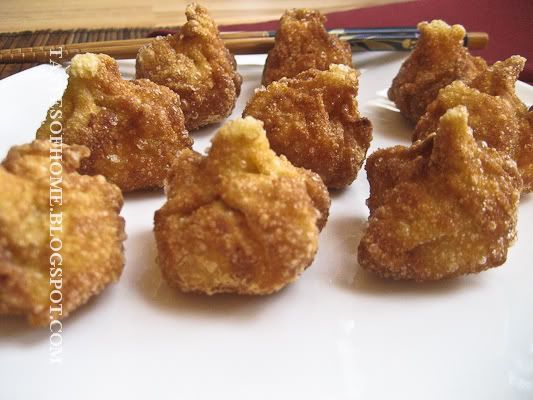 Ingredients:
18 small sized wonton wrappers
1/2 pound of shrimp, shelled and deveined
1 clove garlic, minced
2 tsps of finely chopped green onions
1/2 tsp of finely chopped fresh ginger

Marinade:
1 tbsp light soy sauce
1 tsp Chinese Rice Wine (Shaoxing Wine)
1 tsp sesame oil
1 tsp sugar




Method:
Firstly, use the back of a cleaver of large knife to break up the shrimp. I usually refrain from using the food processor for my dumpling fillings as I like a bit of a 'bite' to my dim sum. Next, add the garlic, green onions and ginger to the shrimp mix and chop together as finely as you desire. Next marinade the shrimp mix in the ingredients listed above for about 15 minutes to 1 hour, longer if you have the time.

Working with one wonton wrapper at a time (as always, lay a damp paper towel on the remaining wrappers to avoid them drying out), place a tsp of the shrimp filling onto the middle of the wrapper. Wet the edges of the wrapper and gather to seal, twist gently with wet hands. Continue with the remaining wrappers. Heat enough cooking oil for deep-frying to about 325 F, place the wontons into your wok gently (I usually use a pair of wooden chopsticks) and fry for about 2-3 minutes or until golden brown. Serve with soy sauce or sweet chilli sauce if desired.