The Chinese always say that a dish has to have the 色(colour or how it looks), 香(fragrance) and 味(taste) elements to make it excellent. These crispy wonton skin wrapped tiger shrimps definitely fulfill all three! This dish is essentially deep-fried tiger shrimp wrapped with a little wonton skin, tied with chives. I marinated the shrimps in some garlic powder and a small amount of oil beforehand.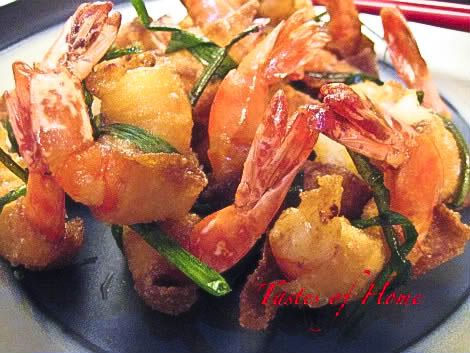 Whenever I eat deep-fried wontons, I always tend to just eat the part with the filling and discard the part where it's only the wonton skin. Due to that, I actually cut the wrappers into much smaller squares just enough to wrap around the shrimps without having the 'extras' to tuck into. It is also really worth it to use tiger shrimp for this dish as the tiger shrimps really add to the fragrance and flavour of the dish. I know that some of you may not have much time in the kitchen, but just the extra steps of wrapping and tying really add to the dish, making the shrimps pleasing to the eye, sense of scent and taste.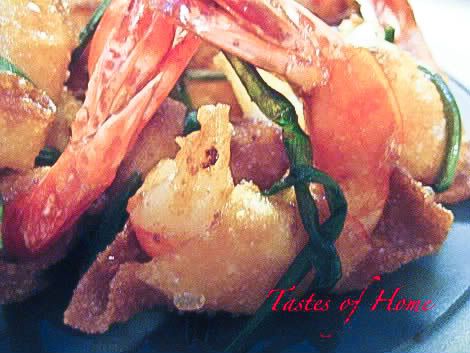 For some other variations of the perpetually popular fried shrimp, try these:
Crispy Prawns with Lotus Seeds
Jumbo Shrimp Rolls
Ingredients:
12 tiger shrimps, shelled leaving tails intact
2 tsps garlic powder
1 tbsp cooking oil
Wonton wrappers, cut into small squares -adjust size according to size of your shrimps
12 chives, soaked in hot water
Enough cooking oil to deep-fry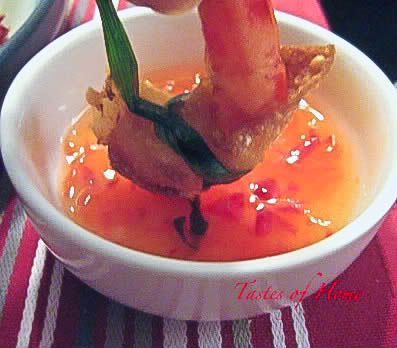 Method:First, marinade the shrimps with garlic powder and cooking oil. Wrap each shrimp and brush with egg on edges to seal together. Place the shrimp diagonally across the wrapper squares and then wrap. Next, tie each 'shrimp parcel' with a chive and cut off the extra lengths. Place a damp paper towel on top of the wrapped shrimps as you work with each shrimp. Heat up enough oil to about 300 degrees F. Deep-fry in batches, making sure they don't stick to each other in the wok or pan. This should take about 2 minutes unless you're using very large shrimp. Serve with sweet chilli sauce or soy if desired.