Ok, I'm taking another trip down Memory Lane. My mom used to prepare this at home all the time and Char Yoke (which literally translates to Fried Pork from Cantonese) is a popular Hakka dish that is almost always cooked at festivals. As you may know, there are many different provinces in China, where each province had a unique dialect i.e. a version of the Chinese language spoken amongst the locals. Within the Hakka clan, there are more sub-clans but to be honest, I am a little confused myself. Anyway, I'm a pure Hakka girl as both my parents are from the Hakka clan. On a side note, apparently Hakka boys are not advised to marry Hakka girls as Hakka girls are quite good at spending money, not sure where this came from, but so far it rings true at least for my sister and I!


I used pork belly meat as the fats gives the meat the natural crunch once deep-fried. The Chinese like to use different parts of pork for different dishes - hence, most of the time a trip to the Asian store is required for the different cuts of meat. Nevertheless, you can just use pork loin or ribs for this dish.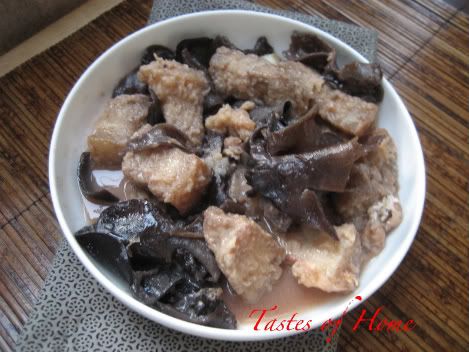 Wood ear fungus (木耳) is black in colour and is usually sold dried, it is also shaped like an ear hence its' namesake. It is required to soak the fungi in water before using where they will expand once softened. Don't confuse this with cloud ear fungus (云耳) though. Both wood ear fungus and cloud ear fungus however are prized for their medicinal qualities as well.

Wood ear fungus pre-soaking





Wood ear fungus after soaking will expand






Interested in more Hakka recipes?

Try my Hakka Style Steamed Baby Anchovies


Or, otherwise, click below for more delicious recipes with pork:

Sweet and Sour Pork Recipe
Audrey's King To Spareribs
Porky Potatoes
Claypot Pork with Tofu and Mushrooms
Miso Cooked Spare Ribs

Ingredients:
1/2 pound worth of pork belly meat, cubed (marinated overnight with 2 tbsps Chinese five-spice powder and 1 egg)
Cake flour for dredging
8 wood ear fungus
2 cubes nam yue (red fermented bean curd)
2 cloves garlic

Method:
Deep-fry the marinated pork after dredging in enough cake flour. Once the pork is fried till golden brown, remove from oil and soak in some paper towers. Next, heat about 1 tablespoon of cooking oil in claypot or a pan if you wish. Saute the garlic with the Nam Yue till fragrant on low heat. Next, add the previously soaked wood ear fungus and stir fry briskly. Finally, add in the pork and add about 1/2 cup water. Bring to a boil, and turn the heat down to let simmer slowly until the liquid reduces by about half. Do a taste test and add more nam yue if you think it's not salty enough.