Update: I added better photographs of this humble Hakka dish and included some images of salted egg in its' raw form and the dish before steaming. I hope these additional images will help you in following this recipe. I was pleasantly surprised that this seemingly simple dish seemed so popular with you, my dear readers, so I thought an update would be welcome.

This is a truly a taste of home for me. I believe this is a humble Hakka family dish - a steamed concoction of salted egg, regular eggs and ground pork. It is rather difficult to find this dish served at most Chinese restaurants since the ingredients used are considered too 'cheap'. But, this is one our favourite family dishes and the salted egg really brings a different or 'higher' dimension to the steamed egg. A note of warning to most non-Chinese readers, this is also another one of those 'acquired taste' kind of Chinese dish.




I'm sure that most of you will be familiar with the steamed egg dish - let me know if you have ever came across this humble yet delicious Hakka creation, I am pretty curious as I've only had this dish at home or in other Hakka family homes. Anyway, in contrast to the steamed egg dish where care has to be taken to make sure the surface of the egg is smooth and free of 'pock-marks' or rather craters, no such care is needed with this dish so this is in fact easier.





Ingredients

2 salted eggs (raw)
1 regular egg
1 cup minced or ground pork (minced is preferred)
1 tbsp corn flour
1/4 cup water
Drop of light soy sauce
Dash of pepper
Green onions/ Cilantro (garnish - optional)




For other Hakka recipes, try:

Hakka Char Yoke (Deep-fried Pork with Fermented Red beancurd)
Steamed Baby Anchovies with Ginger Slivers


Cracked raw salted egg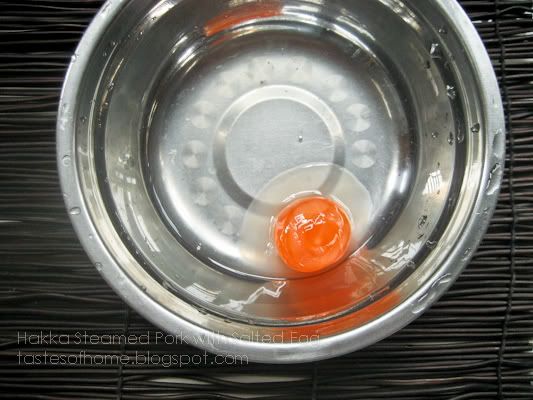 Method:

Firstly, crack the eggs together and mix well. Mix the pork with the cornstarch and let sit for about 10 minutes. If using ground pork, still give it a few chops for slightly better texture. Add the egg mixture into the pork and mix gently. Add 3 tbsps of water to the mix. Steam over medium heat for 25 minutes. To avoid water drying out, keep and eye on your steamer or wok and add more water when necessary. Add a dash of pepper and green onions for garnish if desired. Serve hot with rice.