Happy Mid-Autumn Festival everyone! Today, I'm featuring whole wheat noodles with shrimp and crabmeat in gravy, you may choose to add squid or other kinds of protein to your liking. I find that the crabmeat is really quite essential for the flavour of these noodes though, and provide a nice texture to every bite. I have been picturing this dish in my mind for a bit, it turned out really delicious and was really quite simple to whip up. The gravy is simply cornstarch mixed with some chicken broth, and the noodles are stir-fried beforehand with soy sauce to ensure maximum flavour. The gravy used in this dish is similar to that of Cantonese Fried Noodles except that I eschewed the eggs in the gravy.

Like most Chinese dishes, the "wok hei" or wok-breath (translated from Cantonese) is very important, however in an indoor kitchen, there's only so much wok hei that can be had. Anyway, the noodles still turned out very yummy and I'm quite sure you will like this one! In fact, I think I'm going to go get a second helping! Oh yes - I had my trusty bird's eye chilli peppers in soy sauce as the perfect accompaniment to my yummy seafood noodles.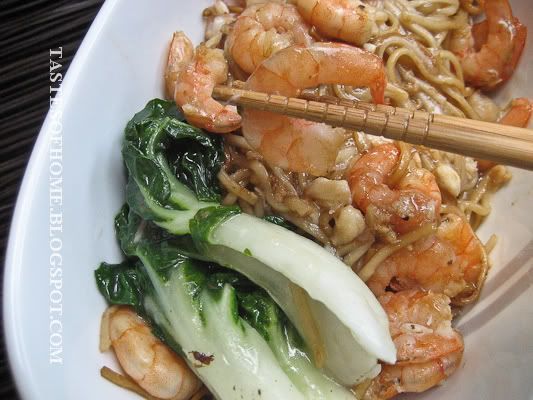 Serve with lots of bird's eye chilli peppers! YUM!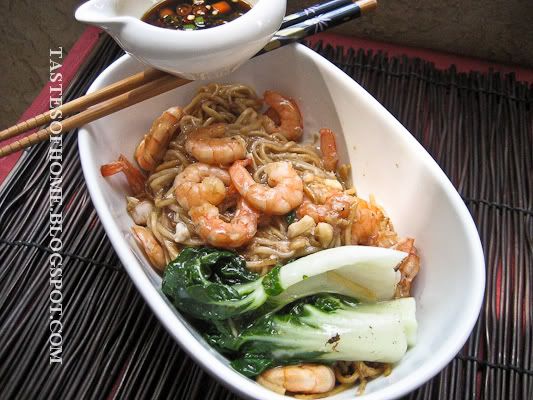 Ingredients:
4 bundles of whole wheat noodles (you may opt to use other kinds of noodles to your liking)
1 can crabmeat
30 small shrimp, shelled
4 bunches of bak choy
3 cloves garlic, smashed

Gravy:
2 tbsps corn flour
1 cup chicken broth

Click below for some of my other noodle recipes:

Stir-fried Rice Noodles

Stir-fried Whole Wheat Noodles with Pork Slivers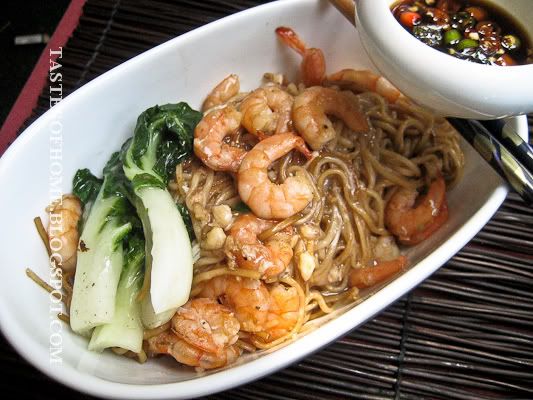 Method:
Firstly, prepare the noodles according to your package instructions. Remember to run the cooked noodles under cold water to get rid of excess starch. Now, heat up your wok or pan until very hot - next add 2 tbsps of cooking oil. Wait about 30 seconds, then add about 4 tbsps soy sauce into the wok - be careful of splattering soy! Next add the noodles in and stir-fry around briskly. You may also add a drop or two of sesame oil for added fragrance. Remove the noodles once well-coated and set aside. Using the same wok, add about 1 tbsp cooking oil and then stir-fry the shrimp and crabmeat till cooked. Then, add the noodles again, and stir around to distribute the seafood as evenly as you can. Remove from wok and set aside.

Now, it's time to make the gravy! Mix the chicken broth and corn flour together in a small bowl. Heat about 1 tbsp cooking oil again and saute the garlic till fragrant. Quickly pour in the mixture and add the bak choy to the mix. Bring to a boil. Add a splash of soy sauce for flavour.

Finally, simply spoon the prepared gravy onto the noodles and there you have it! Serve hot.