Most Asians love carbs so it's quite difficult to have us on the South Beach Diet of Atkins (in my opinion!). We can have carbs all day from breakfast until supper - very typical for us indeed!

Anyway, today I am featuring simply stir-fried rice noodles, simple and basic with no frills except for some shrimp added to the noodles. You can opt to omit the shrimp and you will have a nice vegetarian dish or you can subsitute the shrimp with slices of pork or chicken. The allure of a tasty yet simple-to-make dish is unbeatable; just throw in some garlic, green onions, shrimp (in this case), add a couple of splashes of soy and of course the noodles and voila! A satisfying and quick meal is served. I just wanted to add if using small shrimp like me, please do purchase the peeled ones - unless of course you can get your dear husband/boyfriend/the one who does not cook to peel them and give them the title of your sous chef to dress it up a little! Ha Ha (This 'tactic' should work a couple of times at least!)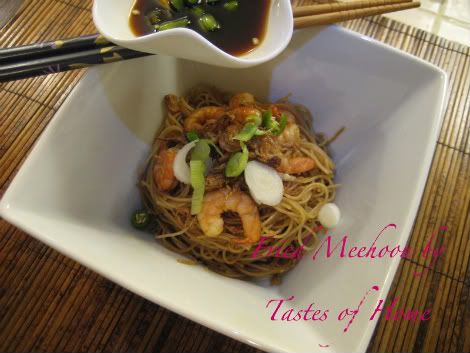 Ingredients:
Rice noodles (two bundles, soaked in warm water)
4 cloves garlic, minced
2 stalks green onions, sliced
1-2 tbsp cooking oil
20 little shrimp, peeled
Dash of pepper
4-5 tbsp light soy sauce (please adjust according to your taste)
Fried shallots (optional)
Bird's eye chilli peppers (optional)
Interested in more Asian noodle recipes? Try these other recipes of mine:
Spinach Noodles with Minced Pork and Dong Choy Recipe
Stir-fried Whole Wheat Noodles with Pork Slivers
Method:
Heat about 1 tbsp cooking oil in the wok or pan. As usual, saute the garlic and green onions first until fragrant on medium heat to avoid burning the garlic. Add in the soy sauce, next add the peeled shrimp and stir-fry briskly. Once the shrimp is almost cooked, this should not take more than 1 minute if using tiny shrimp like I did - add the rice noodles that were previously soaked. The soaking is done to soften the rice noodles or meehoon - I notice that with different brands and hence different thickness of the rice noodles, soaking may or may not be adequate. If you see that the rice noodles are still pretty crunchy, please do add some water into the wok to soften them. I added about 1/4 cup of water and let it slowly simmer down while stirring the noodles around occasionally. I served my rice noodles with some deep-fried shallots (may be bought at most Asian stores, pre-fried) and bird's eye chilli peppers.