If you're a Malaysian or have lived in South East Asia for a bit, chances are that you would have tried belacan (ma lai chan in Cantonese). The highly addictive belacan is made of shrimp paste which is fermented for a few months and then pressed into cakes. Today I feature my mom's recipe for belacan and incorporated into a simple stir-fry dish with taro (yam) leaves. This is quite a common and popular dish in Malaysia and I have been itching to cook it for a bit. I was on a 'quest' to get my mortar and pestle (finally!) today while at the local Asian grocery store - ironically, they didn't sell it there so where did I end up going? My favourite store for dishes - Crate and Barrel! Crate and Barrel actually has a decent collection of Asian cooking apparatus as it turns out.

Anyway, belacan can be added to so many dishes - with water spinach (kangkung), okra, stuffed into fish where the fish is subsequently fried, watch out for this recipe! It is also a family favourite of mine as well to just have the belacan with some raw cucumber slices. I insisted on getting the mortar and pestle to do it the "old-fashioned" way as I want my first attempt at making sambal belacan on my own to be done 'right'. I know that some people just add belacan on its own to dishes, but my mom likes to add the dried chilli, dried shrimp and shallots into the belacan first before using. Try this - if you have other tips for preparing belacan, please feel free to share in the comments section.

Advice: Belacan is definitely an acquired taste and its pungent aroma really turns a lot of people off (at first).






Taro leaves



In the mood for more belacan recipes? Please click on the recipe below:

Try my Belacan Fried Rice Recipe

Or my Stir-fried Ladies Fingers (Okra) with Belacan Recipe


Ingredients:
1 tbsp worth of belacan, toasted (done in the wok)
1/2 cup dried shrimp
8 dried chilli peppers (soaked in hot water for ease of crushing)
6 shallots, peeled

1 bunch of taro leaves
3 cloves garlic, sliced
4 bird's eye chilli peppers, sliced and seeded

Method:

Firstly, crush the dried shrimp, chilli peppers, shallots with the shrimp paste/ belacan together with a mortar and a pestle. Next, heat up 1 tbsp of cooking oil in wok till hot. Add the garlic and chilli peppers and saute until fragrant. Add 1 tbsp of the previously prepared belacan into the mix. Wait about 10 seconds and add in the taro leaves. I added 2 tbsps of water as well. Once the leaves wilt, dish out and serve hot.

Check out another popular Malaysian Recipe Stir-fried kangkung with fu yue. The kangkung or water spinach may be cooked with the belacan as well using the same method as above.


Preparing belacan step by step:

The required ingredients together with my new toy, the Mortar & Pestle:




Place the ingredients listed above in the mortar (I placed a towel and some sheets of paper underneath the mortar to protect the floor)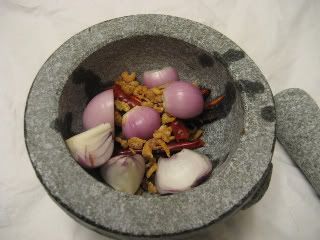 After crushing



The finished product: