Yes, another feature on one of my favourite things to eat, sinfully delicious chicken wings! (I did lessen the 'sin' factor by baking instead of deep-frying them though). As mentioned before, you will find that chicken wings are so easy to prepare and as long as you have a tasty marinade going - it takes quite a lot to mess them up (unless you're my sister! tee hee!). This time, I drenched the chicken wings in some sweet chilli sauce and basted them twice during the baking process. I find that the basting really helps to create the yummy-looking and tasting glaze that I've hopefully captured on my camera.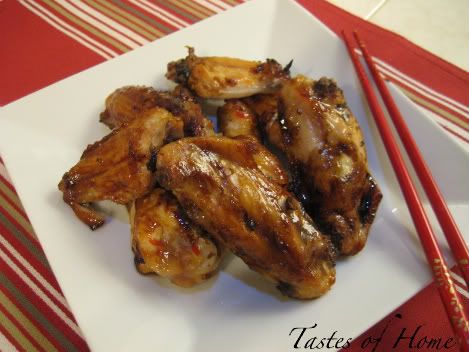 On a separate note, it was pretty hilarious yesterday when I went shopping with my girlfriend at Fashion Valley (this is the mall in San Diego) - I did not buy a single piece of clothing but went home with dishes! I'm sure you don't want to see my food on the same dish over and over again right? haha

Close-up of the yummylicious wings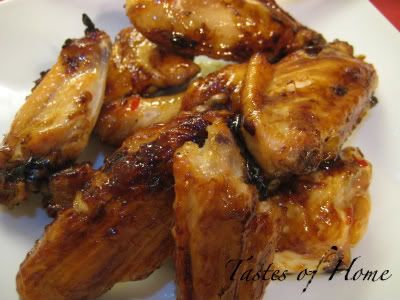 My other recipes for finger licking chicken wings:
Deep-fried Nam Yue Chicken Wings Recipe
Sake Chicken Wings Recipe

Ingredients:
12 Chicken wings/ drummettes

Marinade:
6 tbsps sweet chilli sauce
2 tbsps dark soy sauce
1 tbsp fresh ginger juice
2 tsp garlic powder
2 tsp sugar
Splash of sesame oil
Splash of Chinese Rice Wine

Basting liquid:
1 tbsp dark soy sauce
2 tbsp sweet chilli sauce

Method:
Marinade the chicken wings with the above as long as you can, preferably overnight. Heat your oven up to 425 F - based on my experiments, this is the best temperature for these chicken wings. Line a tray with some oil - lightly spray or coat (with a scrunched up paper towel or a brush if you wish) lightly. Place the wings away from each other on the tray. Bake for about 15-20 minutes, basting twice during this period with a mixture of dark soy sauce and chilli sauce.