Tofu is definitely a 'wonder-ingredient' in that it has a ton of health benefits and since it is essentially flavourless and highly-absorbent, you can cook it in a variety of ways to suit your taste buds. Today I opted for some deep-fried tofu packets I purchased with some ground pork cooked in a spicy bean sauce. This dish is no stranger to most Chinese dining tables and is definitely a family favourite of mine.


As I purchased these tofu packets already fried, I could skip the slightly messier step of deep-frying, but if you're feeling particularly diligent or up to it, you can always buy plain tofu and deep-fry them before cooking. I always keep some bean sauce in my fridge as they are so versatile, they can be used in sweet sauces, in stir-frys with vegetables, seafood or in this case, pork and tofu. To make this dish vegetarian, you can opt to skip the ground pork or substitute with ground chicken to make this a delicious halal dish.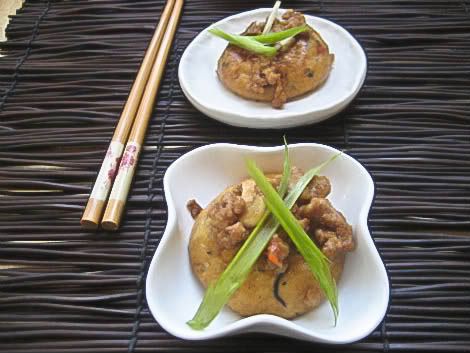 The tofu packets soaked up my delicious spicy bean sauce and the ground pork added variety to texture, each bite was pure pleasure!

For more tofu recipes on Tastes of Home, please click below:
Spinach Tofu with Salted Fish Stir-fry Recipe
Claypot Pork with Tofu and Mushrooms Recipe
Or, for more recipes with bean sauce, click below:
Manila Clams in Spicy Bean Sauce Recipe
Red Snapper in Spicy Bean Sauce Recipe
Ingredients:
8 deep-fried tofu packets
2 cloves garlic, sliced
2 stalks green onions, sliced diagonally (save the green parts for garnish if desired)
1/4 pound ground pork
2-4 bird's eye chilli peppers, chopped
Sauce:
2 tbsps ground bean sauce
1 tsp sugar
1 tsp
Shaoxing
Wine (Chinese Rice Wine)
Dash of pepper (optional)
1 tsp of corn starch in 4 tsps water
Method:
Heat about 1 tbsp of oil in a wok. Saute the garlic, green onions and chilli peppers till fragrant. Add the bean sauce, then fry the pork till half-cooked. Add about 1/4 cups of water and add the tofu packets. Stir around for about another 3-5 minutes. Finally add about 1 tsp of cornstarch in 4 tsps of water to thicken the sauce up. Serve hot.