As a self-proclaimed dim sum (點心) aficionado, I felt that I should feature one of the most popular dim sum dumplings ever, the celebrated 燒賣 (siu mai in the Cantonese dialect). These delectable little bites are usually steamed but you can also opt to fry them if you're so inclined. As with most dim sum or dumplings, you can be creative with the filling - for this recipe, you can add Chinese mushrooms if you like as well.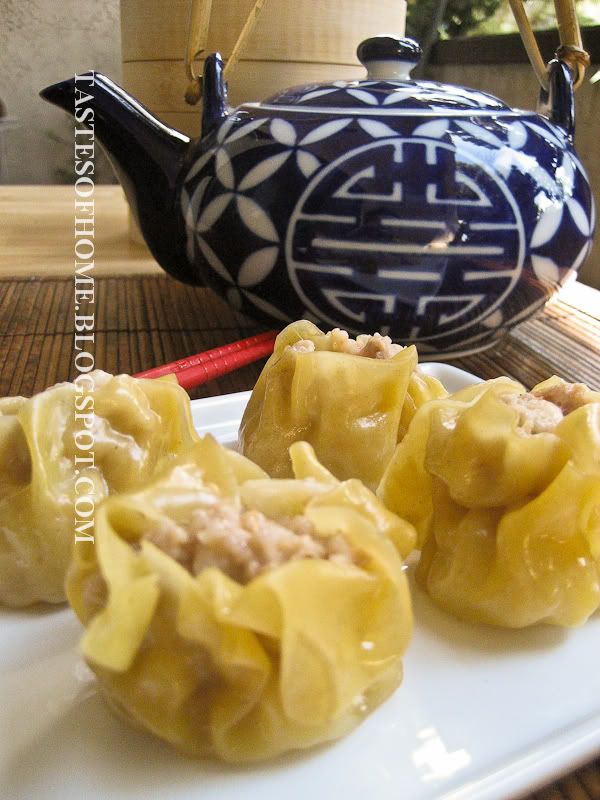 So today, I had my friend J come over for lunch together with her little puppy - I wanted to make some siu mai that would accompany our lunch but alas I was running late on some errands and J actually helped me to wrap these delectable little bites after we dug into some lunch she bought. Anyway, hope that her husband will like these as I sent her home with some siu mai. I have to admit that making siu mai and dumplings in general do require a bit more time so it was fun to have a girly chat while wrapping these little dumplings.




Siu Mai literally translates to cook and sell dumplings, 燒 meaning to cook and 賣, meaning to sell.



For more dim sum recipes on Tastes of Home, please click below:

Deep-fried Shrimp Wonton

Steamed Chives and Prawns Dumplings

Shanghai Pork and Shrimp 'Crystal' Dumplings

Ingredients:
20 wonton wrappers
1/4 pound of ground pork
18 medium sized tiger shrimp
2 stalks green onions, chopped finely
4 cloves garlic, minced
4 water chestnuts, chopped finely

Marinade:
2 tbsps light soy sauce
1 tsp sesame oil
2 tsps Chinese Shaoxing Wine (Chinese Rice Wine)
2 tsps sugar
1 tsp Mirin
2 tsps corn starch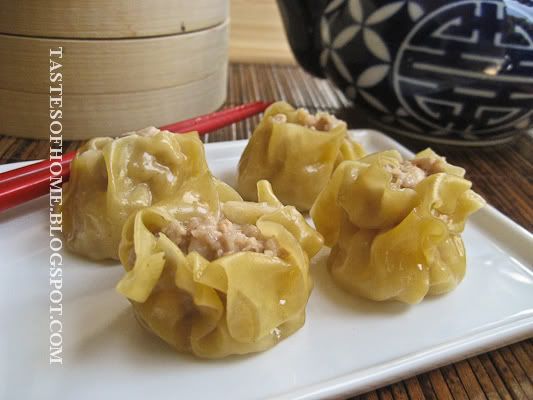 Method:
First, chop the pork and shrimp together until well mixed. Next, add the green onions, water chestnuts and garlic to the mixture and mix well. Marinade with the ingredients listed above. You may also add ginger juice if you like. Add the corn starch and mix well. Now, you're ready to wrap the dumplings.

Next, working with one siu mai at a time, spoon about 1 tsp of the filling onto the middle of the wrapper, keeping it 'tall' i.e. don't flatten it. Brush the edges of the wrapper with water and simply gather the wrappers up, folding wherenever needed. Allow the filling to 'pop' up on top of the wrapper. While working with each siu mai, be sure to keep a damp paper towel on top of the rest of the wonton wrappers to avoid them from drying out.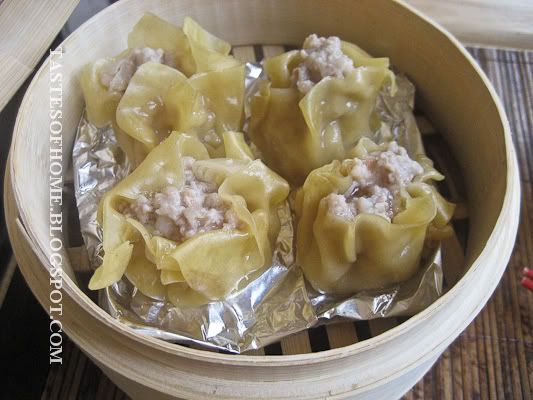 Prepare a bamboo steamer with some parchment paper or foil. Place the wrapped dumplings on top and steam over high heat for about 10-15 minutes. Before steaming, you can add ssprinkle some mashed up salted egg yolk for some colour if you wish. Serve hot. These will be perfect with some sweet chilli sauce or simply on its' own.