I must be in a spicy mood recently, I threw this dish together as I had some fresh noodles sitting in my fridge that were begging to be used and I just bought some curry powder from the same Indian store where I found my beloved curry leaves! This is so easy to throw together, and I decided to add some shrimp and chives to the mix. If you want more heat in your dish, add some bird's eye chili peppers to saute together with the garlic. I did not add the peppers while cooking and decided to sprinkle some atop my noodles. These noodles will be great served with some lime on the side as well.

After whipping this up, I think this resembles the a popular fare at the Malaysian Mamak food stalls in Malaysia, the Mee Mamak - except that mine did not have the requisite dried tofu strips and egg stirred in. I can't wait to visit Malaysia next Chinese New Year and go to one of my favourite Mamak stalls, Rajoo's in Petaling Jaya.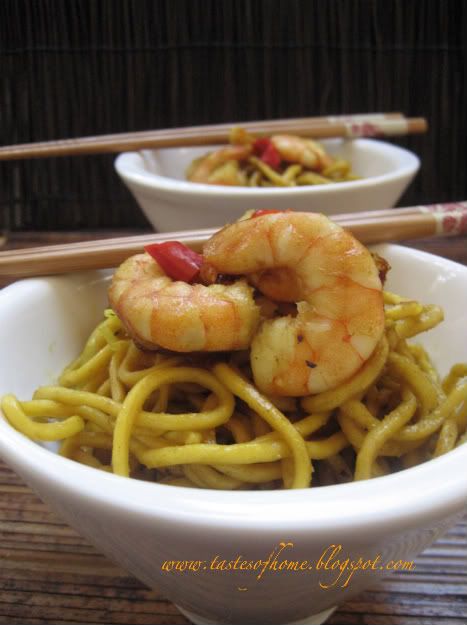 For more spicy recipes on Tastes of Home, please click below:

Malaysian Belacan Fried Rice Recipe

Stir-fried Okra with Belacan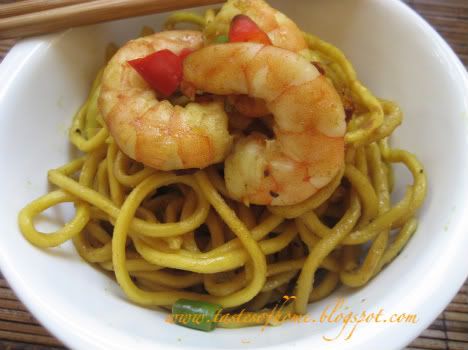 Ingredients:
1 packet of fresh egg noodles (or use other types of noodles if you wish)
3 cloves garlic, minced
4 bird's eye chilli peppers
Handful of chives or substitute with other vegetables if you wish
10-12 medium sized shrimp
1 heaped tbsp of curry powder
1/4 cup water
2 tbsps of soy sauce or to taste
Dash of sugar
Dash of pepper

Method:
First, heat about 1 tbsp of oil in a wok. Saute the garlic until fragrant, add the shrimp, chives and stir-fry around briskly. Add the curry powder and half of the water to create a spicy paste. Next, when the shrimps are almost cooked, add the noodles. Add the soy sauce, sugar and pepper. Add the rest of the water while stirring the noodles around. Cook until water evaporates. Add more soy or pepper depending on your preferences. Serve hot.