Words cannot begin to describe how much I love and lust after butter prawns. This recipe is just so uniquely Malaysian - it totally captures the essence of Chinese, Indian and Malay cooking resulting in a to-die-for concoction! Head-on prawns are best for this recipe to fully display the rich flavours and colours of this dish. The fresh curry leaves lend an irreplaceable fragrance to this dish that is enhanced by the presence of bird's eye chilli peppers. Prawns poached in oil, then fried in butter, garlic, chilli peppers and super fragrant curry leaves - what's not to love?!







I have been on the search for fresh curry leaves in San Diego for a while, and finally found some (and reasonably priced too!) in an Indian grocery store. I was waiting with bated breath when I asked the polite salesperson if they had fresh curry leaves - when he nodded and led me to the aisle, I was so ecstatic and could hardly contain my excitement when I detected the familiar and fragrant scent of curry leaves. What a lot of fuss for something that grows commonly in everyone's garden in Malaysia! This scenario reminds me of a saying in Chinese, "When a person leaves his or her hometown, he or she is not that precious anymore, when goods leaves their original locations, they become very dear". Though this saying might be rather wide-sweeping, the second part does hold true most of the time!






The little bits in this dish are definitely the pièce de résistance (to me), I can really eat a whole bowl of rice with just the little bits! I used egg yolk this time, but you can opt to use toasted grated coconut as well.

Fresh curry leaves are essential to Butter Prawns!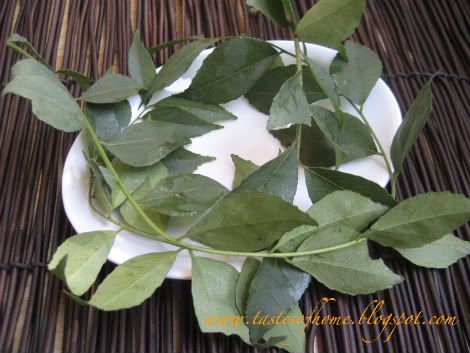 For more Malaysian recipes on Tastes of Home, click below:

Malaysian Belacan Fried Rice Recipe

Stir-fried Okra in Belacan

Audrey's Mashed Banana Fritters


Ingredients:


15 head-on prawns, shell on - deveined and remove eyes
A handful of fresh curry leaves
6 tbsps butter
5 egg yolks
3 cloves garlic, minced finely
4-5 bird's eye chilli peppers, seeded and finely chopped
1 tsp salt
1 tsp soy sauce
1 tsp sugar
Dash of Shaoxing Wine (Chinese Rice Wine)
Dash of white pepper



Method:

Firstly, heat enough oil to poach (i.e. deep-fry briskly) the prawns. Pat the prawns dry after cleaning and poach in the hot oil until shells turn red. Remove and drain, set aside.

Next, use about 2 tbsps of the oil used earlier in your wok. Briskly fry the garlic, chilli peppers curry leaves and salt until fragrant. Turn heat to medium-low, add the butter, soy sauce and the sugar. Next, add the egg yolks, squeezing through a sift and finally the prawns that were fried earlier. Add more salt if desired at this point. Stir-around to coat and fry until the little bits of egg start to brown. Serve hot.