I absolutely adore Japanese food from sashimi to doriyaki and today I decided to feature a very simply pan-fried salmon fillet in miso and ginger. As you know, salmon has a distinct and pungent flavour that I incidentally love - but if you're not a fan of salmon, you may substitute with cod, halibut or any other white fish. This is rather light and the list of ingredients is delightfully short. I used liberal amounts of sake (in marinade and as I was pan-frying) as I absolutely love the fragrance of sake but adjust according to your preferences.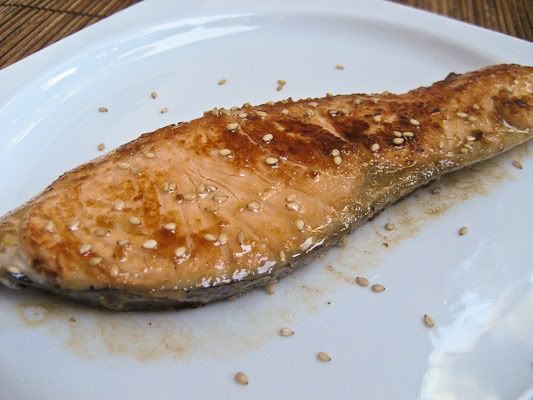 This dish will be perfect on lazy days, I timed myself and I only spent 15 minutes from taking the salmon fillets out of the fridge to plating. I love to eat crispy fish skin as well, and these did not turn out very 'fishy', if you like, you can simply bake or grill the fillets. On another note if you're planning to make sushi, I recommend for you to try my very cute salmon sashimi brocade balls posted under Assorted Sushi and my colourful rainbow roll (tazuna maki).

Itadakimasu! いただきます (similar to Bon Appetit!)

For more Japanese recipes on Tastes of Home, please click below:
Chicken Escabeche Nanban (Japanese Fried Chicken)

Seared Hamachi

Tatsuta Fried Chicken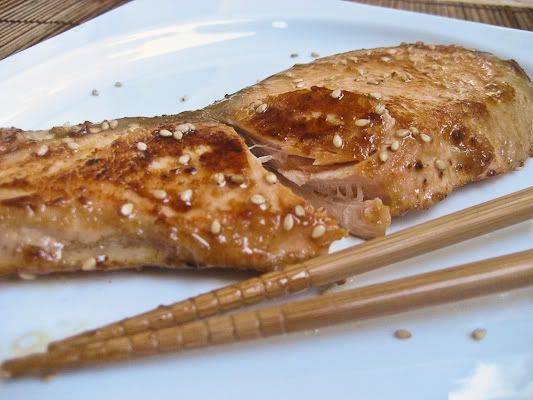 Ingredients:
2 salmon fillets
White sesame seeds (for garnish - optional)

Sauce:
1 tbsp white miso paste
2 tbsps mirin
2 tbsps sake
2 tbsps grated fresh ginger
1 tbsp sugar

Method:
Firstly, mix the ingredients for the sauce together in a separate bowl. Now is the tim for a taste test, adjust the quantities of the ingredients above according to your preference. Simply spoon the sauce onto the salmon fillets and spread on the fillets as evenly as you can. As you can see, no soy was needed as the white miso paste is already salty.

Now, heat about 2 tbsps cooking oil in a non-stick pan. Once hot, pan-fry the salmon fillets, about 3-4 minutes on each side. My salmon fillets were not very thick and hence they were cooked through pretty quick. I then sprinkled some toasted sesame seeds on my fillets as a garnish and also because I love the crunchiness they add to the fillets.