Soba or buckwheat noodles are very healthy and unlike most 'good-for-you' food are very tasty as well. Soba noodles are very versatile and are delicious served hot or cold. For a guilt-free noodle fix - today I am featuring my 'deluxe' yet quick version of soba noodles in bonito broth. I used bonito powder and konbu (dried kelp) to flavour my light and nourishing broth that was the perfect 'backdrop' for these healthy noodles. A dash of soy, sake, white pepper and my broth was ready to go. I added some fish cake, fried tofu packets and wakame for a quick 'deluxe' factor in my noodles. This is easily a healthy and delicious alternative to regular instant noodles, where the latter usually has zero nutritional value not to mention all the calories. Finally, I topped my noodles with some toasted nori (seaweed) strips and dried bonito flakes for a 'toastier' bite.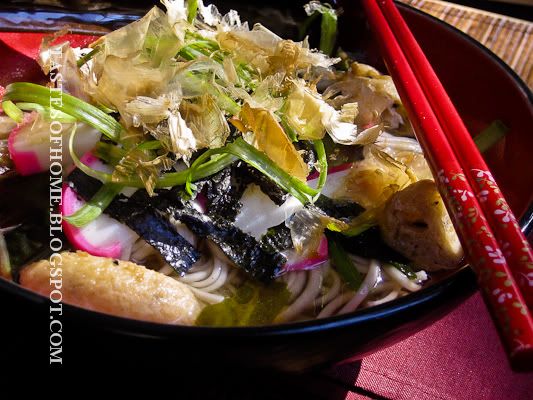 If you like the flavour of miso, you can add about 1 tablespoon of white miso paste to the broth for an earthier flavour. You may also substitute the soba with udon noodles. A relatively low calorie yet tasty noodle dish, it's easy to justify a second bowl!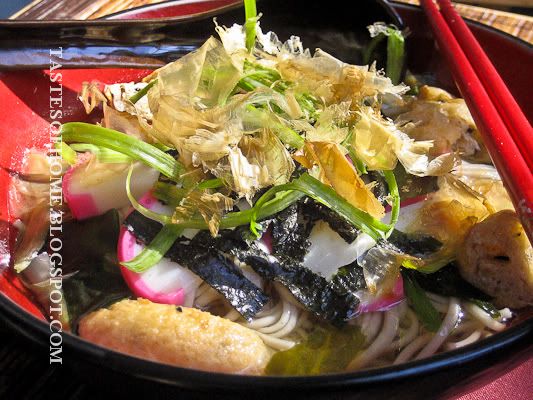 Like a versatile black dress, these noodles can be 'dressed' up or down depending on your mood and availability of ingredients (think accessories) in your closet, er I meant kitchen.

This post is part of my Yuen Chun Recipes.



Alternatively, try my cold soba served with the classic bonito-soy dipping sauce here.

For more Japanese or Japanese-inspired recipes on Smoky Wok, click below:

Rainbow Roll (Sushi)

Tatsuta Fried Chicken

Ingredients:
1 bundle of dry soba/ buckwheat noodles
4 cups water
1 packet of bonito powder (susbsitute with chicken powder if you wish)
1 tbsp soy sauce (I used Yuen Chun's)
1 inch of konbu (dried kelp)
Handful of wakame (dried seaweed) - soak for a few minutes until rehydrated
Dash of sake (optional)
1 tsp salt
1 tsp white pepper (optional)

Accompaniments (you can definitely be creative here), I used:
2 tofu packets, cut into bite-sized pieces
6 pieces of sliced steamed fish cake
Handful of toasted bonito flakes
Handful of shredded toasted seaweed or nori
2 stalks of green onions, sliced diagonally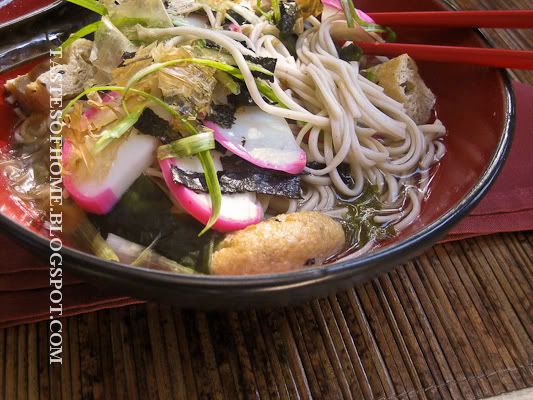 Method:

Cook the noodles according to package instructions and set aside. Place desired amount on individual serving bowls and set aside.

For the broth, boil the konbu together with the 4 cups of water. Once the water boils, remove the kelp and discard - this is to avoid bitterness in the broth. Next, add the bonito powder and mix well. Add the soy, salt and white pepper to the broth. I added a dash of sake and sesame oil - but you can opt to omit these if you wish. Taste the broth and make sure it is flavoured to your liking. Add the tofu packets, fish cake and the previously soaked wakame to the broth.

When you are ready to serve the noodles, ladle the broth onto the noodles in their individual serving bowls and top with the toasted seaweed, bonito flakes and green onions.