I am usually not a huge fan of plain tofu as it is rather flavourless - but there are days when I hanker for tofu and today was one of them. This spinach and tofu stir-fry is quite healthy and very 'ching' (cleansing and not rich translated from Cantonese). I decided to dress it up a little by flavouring this dish with some salted fish bits. The crunchy and fragrant salted fish bits definitely up this simple stir-fry a few notches but beware, salted fish is another acquired taste and if you're not a fan of salted fish, simply leave the stir-fry plain or flavour with some shallot oil if preferred. A delightfully short list of ingredients and very tasty plus economical at the same time if I must say so myself.

After featuring some richly flavoured foods ranging from my Malaysian Butter Prawns to Kam Heong Crabs , this is a nice deviation for days when your tastebuds feel like taking a respite (albeit a short one?!) from all the spicy flavours!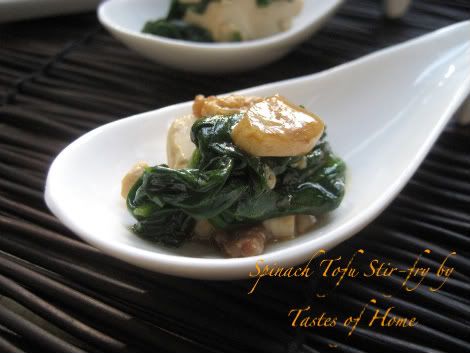 Ingredients:
1 block of silken tofu, cubed
3 cloves garlic, sliced or minced
1 tbsp worth of salted fish
1 bag of baby spinach leaves (I used the pre-washed ones)
1 tbsp soy sauce or to taste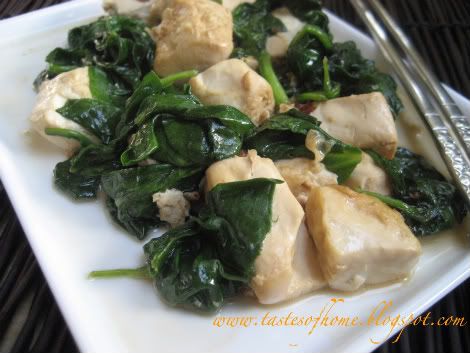 Method:
First, heat about 3 tbsps of oil in a wok. Gently fry the tofu cubes in the oil for about 1-2 minutes, this helps the tofu to be a little more fragrant and decreases the likelihood of crumbling during cooking. Remove and drain - set aside.

Next, heat about 1 tbsp of oil in your wok again and saute the garlic and salted fish bits together until fragrant. Now, gently place the fried tofu into the wok with the garlic and salted fish bits, add the soy sauce and finally add the spinach leaves. Cook until spinach wilts. Dish out and serve hot.